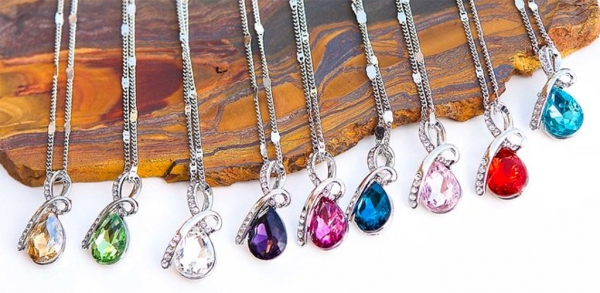 - July 25, 2015 /PressCable/ —
In a bold move, MJH Innovations, a seller on Amazon, has turned the typical Amazon sales paradigm on its head by changing the way it's products are offered to the site's consumers. The seller has begun this new approach by offering a women's black and white print floral skirt to buyers, and then in a unusual move, up the ante by offering a valuable free Swarovski jewelry necklace along with the skirt.
"We feel like it's time to shake things up," said a MJH Innovations spokesman. "We could just offer the skirts, which are a great deal unto themselves, but as beautiful as they are, we think today's women consumers are looking for sellers who are willing to give them even more value than they expect, and this gift definitely does that.
The jewelry necklace gift that comes with the skirt is an 18k white gold plated Swarovski crystal necklace that comes in a variety of colors. "We understand that the value of the necklace is equal to that of the woman's skirt, but we want our customers to understand how much we truly value them," said the spokesman. "And we expect that they will when they unwrap this free beautiful Swarovski style crystal necklace."
And while this seller is certainly shaking things up in the Amazon marketplace, they aren't the first retailer to try and change the way goods are sold. In the past, one seller of candles placed a ring in the middle of the candle, and buyers had to melt the candle to get the ring. "As marketers, we appreciated that," said the spokesman, and it caused us to think, "Let's offer them a luxury necklace to go with their new skirt. Getting free jewelry along with a skirt purchase caught the attention of 76% of the women we polled before making this offer."
As more and more buyers are realizing the incredible deals they can find on marketplaces like Amazon, sellers will likely continue to innovate and improve the buying process for their dedicated buyers, but for now, it looks like MJH Innovations is only just staring to think about their future offerings. "Who knows what we'll do in the future?" said the spokesman. "We will do whatever it takes to make our customers happy and help them to remember us as a seller that cares about their shopping experience".
Meanwhile, it doesn't appear that the thousands of other sellers who display their wares on the Amazon marketplace have caught on to the trend yet. In fact, there are only a handful of sellers who offer a free gift with purchase to make their offer more appealing. For now, it seems that MJH Innovations is the originator and the first of it's kind to actually offer a free gift of substantive value to its customers.
Release ID: 87294