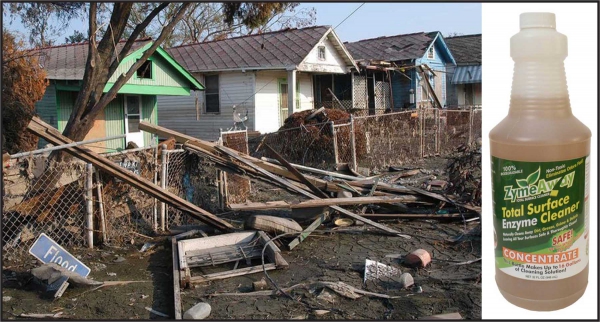 - October 19, 2016 /PressCable/ —
As with Hurricanes Katrina, Gustav, Sandy and the recent flooding in Cedar Rapids, Iowa, ZymeAway has been the safest and most effective flood water cleaner available. It biodegrades all organic matter from washable surfaces without toxic chemicals or harmful effects. Unlike noxious bleach cleaners, ZymeAway is a powerful all-natural enzyme cleaner that is safe for use around, babies, children, pets, the elderly and the environment. The ZymeAway team understands how awful and toxic flood clean up is, and know what the victims of Hurricane Matthew are up against.
After the devastation of Hurricane Katrina, Nick Martello, a 30-year expert in remediation and the creator and founder of ZymeAway, was called upon to provide the highly effective and safe solution for the massive cleanup of harmful floodwater sewage and debris. "We care deeply about our customers' health as well as our environment. Since early in 2004, we've worked closely with distinguished professionals in developing what is now the safest, most effective, organic remediation product on the market, and we are very proud of that!" said Nick.
During the 2008 Iowa Cedar River floods, most of the victims hospitalized were from asphyxiation due to inhaling bleach's toxic fumes or caustic burns from splashing bleach in their eyes and on their skin. These incidences outnumbered all other injuries during this natural disaster. When the safe and effective ZymeAway was used, it not only cleaned more thoroughly, but also removed the toxic bleach vapors and odors from inside residences and buildings. When ZymeAway was used according to its label instructions, it successfully passed FEMA's re-occupancy post-cleaning test and inspections. ZymeAway has been widely used throughout the United States, including Hawaii & Alaska as the leading mold, mildew and flood stain cleaner while being completely safe to people, pets and the environment.
ZymeAway LLC recently contracted EMSL Analytical, Inc., the nation's leading environmental testing lab, to analyze the pre and post-cleaning swabs submitted by ZymeAway for their M013: Sewage Contamination in Buildings test. The independent EPA accredited lab test analysis revealed that ZymeAway cleaned away all traces of sewage (fecal matter) from the test location. See Video Here (LINK)
ZymeAway is the most economical cleaning solution for mold, mildew and floodwater stains. At $1/ounce, a 4-ounce mixture of ZymeAway super concentrate added to 1 gallon of water costs only $4/gallon, which cleans between 150-200 sq.ft. of surface area. "The method of applying our cleaner, such as fogging, hand-pump spraying or power washing, along with the size of the surface area to be cleaned will determine the amount of ZymeAway concentrate needed. Many times a simple quart sprayer bottle will work for general purpose cleaning." says Nick. To learn more about ZymeAway and its many household uses, visit ZymeAway.com.
NOTE: To see the actual swab test conducted using a Luminometer (Laser Light Meter) click here [Video Test].
About ZymeAway: Nick Martello is the Founder, President, and Creator of ZymeAway, The Organic Enzyme Power Cleaner; the world's safest and most effective organic mold, mildew, and flood stain cleaning product. Mr. Martello has been involved in the Environmental Sciences since the mid – 1970s while having the pleasure to work throughout Central and South America and several years in the Caribbean region primarily in agriculture and mining. Mr. Martello worked as an international business consultant presenting transfer of technology opportunities into both the Governmental and Private Business Sectors. He had the distinguished honor to work with Professor Raul Acuna Patino for 20+years. He was awarded indoor air & surface decontamination certification throughout the United States i.e., Michigan, Ohio, Florida, Washington and Massachusetts. Mr. Martello's field of study became microorganisms (molds & bacteria) and "how to" remediate and decontaminate both occupied and unoccupied structures.
Release ID: 139220