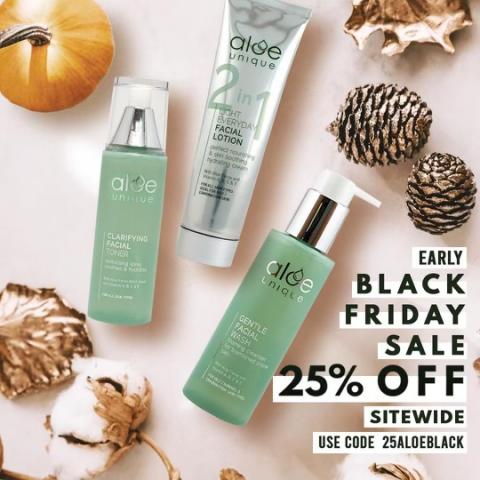 - November 28, 2020 /NewsNetwork/ —
A new hydrating Aloe skincare range made of 100% natural ingredients has been launched by Aloe Unique USA. The team behind the cleansing, moisturizing, and clarifying range explain the products are affordable, suitable for all skin types, and rejuvenate the skin.
Find out more at https://www.aloeunique-usa.com/skin-care
The newly launched range of products includes facial lotion, an Aloe and honey gel mask, clarifying facial toner, exfoliating scrub, a gentle face wash, and age defying serum. The team explain that as they offer something for everyone, their products make the ideal gift for the holiday season. Find out more at https://www.aloeunique-usa.com
Whether people have acne, oily skin, aged-related blemishes, sensitive, dry, or normal skin, the team explain the products soothe irritation, refine skin texture, increase elasticity and radiance. They add the range is ideal for those who want to pamper their skin at home over the festive period.
For a limited time, the Aloe Unique USA team explain they are offering Thanksgiving and Black Friday offers designed to help customers find cost-effective and affordable gifts for their friends and themselves, whether they want to invest in their health or help their friends relax over the holidays.
The plant-based organic range is cruelty-free making the products ideal for conscious-consumers who want to support ethical brands. Aloe Unique USA offers multiple gift sets including the Starter Gift Set, which is ideal for people who want to begin a new skincare routine.
It includes a gentle face wash, clarifying toner, 2-in-1 light moisturizer, Aloe & honey gel mask, and an exfoliating facial scrub. The Sensitive and Acne Prone Gift Set is suited to people who want to get their skin under control using gentle plant-based products.
A customer wrote: "I love that Aloe Unique USA uses Aloe in their products, I love Aloe and use it religiously as part of my skincare and haircare routine. I love the Bitter Gel, which is made of 99% organic Aloe Ferox, which is great for treating blemish acne-prone skin – I use it as a spot treatment or mask."
To find out more interested parties are invited to visit the links provided. Alternatively, more details can be viewed at https://www.youtube.com/watch?v=UVi6l-_U9OA
Release ID: 88987508