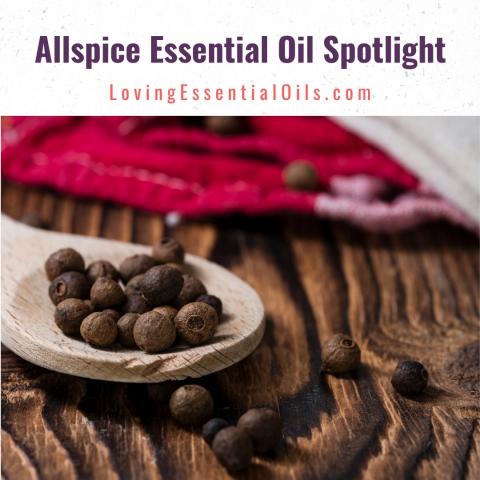 - October 22, 2021 /NewsNetwork/ —
The new guide informs readers of the many benefits of allspice essential oil and provides 5 recipes for making use of it at home. These recipes are for an allspice and orange diffusing blend, an allspice muscle rub, a sweet fire massage blend, a tummy calm roller, and a wellness spice inhaler blend.
More details can be found at: https://www.lovingessentialoils.com/blogs/diy-recipes/allspice-essential-oil-recipes-uses
Readers learn that the light aroma of allspice oil is ideal for those who wish to avoid overwhelming scents. The new guide notes that its benefits extend beyond olfactory pleasure, and include relief from muscle cramps, mild sedation, the easing of cold symptoms, relaxation of the body and mind, and more. It also warns readers of the high content of eugenol in allspice oil, cautioning that it should be diluted due to eugenol irritating skin and mucous membranes.
The human faculty of scent is a beloved subject of poetry and music. Many find their emotions stirred and their nerves calmed or irritated with the arrival of particular smells. Accordingly, people often want to involve themselves more closely in controlling the scents that are present in their living spaces.
Readers of Loving Essential Oils' guide have the chance to exercise their creative instincts with the suggested allspice recipes. They can take advantage of the oil's widely appreciated aroma and provide themselves with additional health benefits. The guide is thorough and wide-ranging, containing precautions for the use of essential oils, particularly concerning children and those with medical conditions.
As well as illustrating its benefits, and providing recipes for its practical use, the guide also provides readers with scientific information about allspice. Its botanical name and family, note, extraction method, shelf life, and various other elements are listed in a clear and concise chart.
Loving Essential Oils is dedicated to informing readers of the many facets and uses of essential oils and aromatherapy. Along with its allspice spotlight, it features many pages and recipes relating to a variety of other essential oils, including magnolia, nutmeg, cardamom, juniper, and more.
All interested parties can find further information at: https://www.lovingessentialoils.com/blogs/diy-recipes/allspice-essential-oil-recipes-uses
Release ID: 89050205