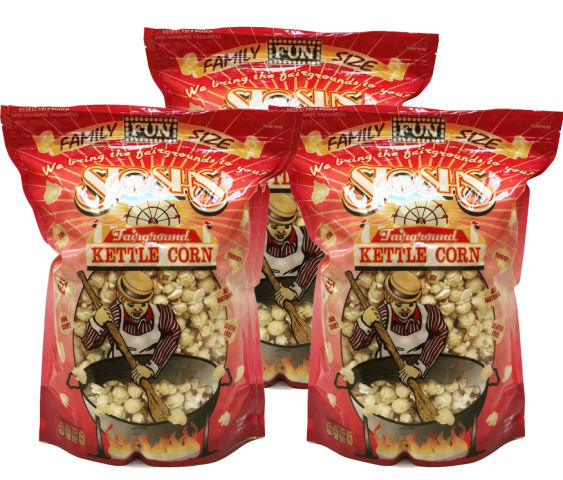 - August 15, 2020 /PressCable/ —
The Bliss Loft has announced an update to its range of top-selling handmade and allergy-friendly kettle corn for people looking for a healthy snack for all the family.
More information is available at https://bit.ly/39LBNXN
The updated kettle corn from The Bliss Loft gives people a healthier alternative to sweets and chocolates for any occasion such as movie nights or kids' sleepovers, with their traditionally made popcorn variety.
Many parents worry about giving their children snacks due to the risk of allergies. Across America, more than 50 million people suffer from some form of allergy, making it the 6th leading cause of chronic illness in the US alone.
Healthier snacks are often based around nuts and fruits, meaning that the risk of allergies can be higher, and parents need to make sure they find ones that are suitable for their children to reduce any risks.
The Bliss Loft has developed its kettle corn to be as allergy-friendly as possible by handmaking every batch of their popcorn. The company ensures its kettle corn is an all-natural product that is gluten-free, nut-free, non-dairy, and non-GMO. Furthermore, they use traditional recipes, which means that there are no artificial additives, sweeteners, colorings, or preservatives added to the product.
By creating a healthy and allergy-friendly snack product, The Bliss Loft can help parents find a great tasting alternative for their children, and their friends, for any occasion. Additionally, the kettle corn comes in resealable popcorn bags that are designed to stand on their own, saving the need for containers, and can keep the popcorn fresh between snacks.
Kettle corn is a traditional method of making popcorn by hand that uses iron kettles to heat the corn one batch at a time. The technique was introduced to the United States in the 1700s and has since become a staple of funfairs and fairgrounds.
The Bliss Loft aims to bring the traditional flavor to the home by using the same handmade processes and methods to create their top-selling kettle corn.
A previous customer of the company said, "Love it! My husband and I bought five different kinds to do a taste test, and this one was the best in taste and price. Not a lot of kernels and every piece is caramelized."
Interested parties can find more information by visiting the website mentioned above.
Release ID: 88972186