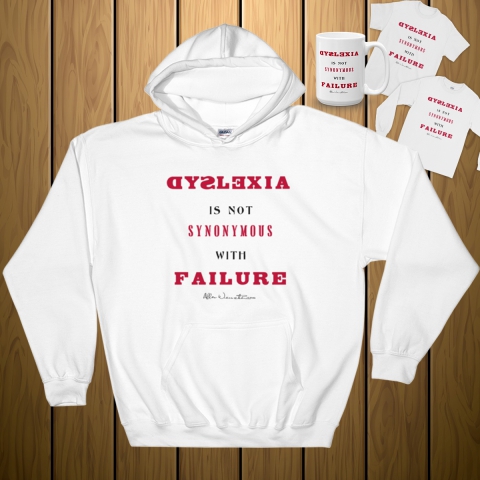 - January 27, 2017 /PressCable/ —
Allen Weinstein, author of 'Memoirs of a Learning Disabled Dyslexic Multi-Millionaire' has launched his latest motivational merchandise to inspire people dealing with disabilities and prove that dyslexia and disabilities are not synonymous with failure.
Sharing more information regarding his latest launch Allen stated, "Our latest merchandise collection has been specially designed to encourage people with dyslexia and disabilities and inspire them to overcome their challenges. We want them to know and understand that problems such as dyslexia and other disabilities should not hinder their progress. Our products will remind them that their learning problems or disabilities can be managed with a positive frame of mind."
It must be noted that Allen's latest merchandise consists of a wide variety of apparel, pillows, tote bags and mugs. Customers who are looking to gain additional information about how Allen dealt with dyslexia and his learning disabilities can also pick up 'Memoirs of a Learning Disabled Dyslexic Multi-Millionaire' authored by Allen Weinstein himself. The book describes how Allen used the power of visualization to achieve great success and accomplish goals that seemed impossible. The book also lays down the importance of believing in oneself and learning from one's own mistakes.
Allen Weinstein himself has experienced several challenges in life. As a child he suffered from dyslexia and learning disabilities, he couldn't read till the age of thirteen, and was written off by the educational system. However, Allen used his disabilities to his advantage and eventually managed to become a multi-millionaire through his passion for achieving success.
Apart from the book, buyers can also purchase merchandise featuring motivational and inspiring quotes such as "Dyslexia is not Synonymous with Failure" and "Learning Disabilities are not synonymous with Failure."
Through his online store Allen Weinstein focuses on improving the lives and thought process of people that are impacted by dyslexia and other disabilities. For more information about the products or Allen Weinstein visit http://allenweinstein.com
Release ID: 164579