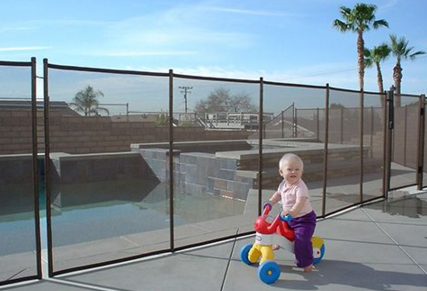 - March 10, 2016 /PressCable/ —
All-Safe Pool Fence & Covers is owned and operated by the Hauge family, Reed, Helen and Marsh, who share the family name and strong and consistent family values. Approximately forty employees make up a dedicated All-Safe "family". Each and every employee is a valued team member and all share in a united commitment to pool safety awareness and drowning prevention. All-safe is always working on ways of improving product, procedures and working environments. Having an ongoing reputation of professionalism, reliability, quality, honesty, integrity, and fairness is important to All-Safe Pool Fence and Covers
All-Safe Swimming Pool Safety Fence http://www.allsafepool.com
Almost everyone have known a family that has experienced the tragic loss of a loved one to drowning or near drowning. All-Safe is no exception and is dedicated to saving lives. All-Safe will manufacture sell and install swimming pool safety fence barriers to provide layers of safety between young children and swimming pools to prevent drowning. These barriers include removable pool fences, safety nets, safety covers and alarms. All-Safe production facilities, general offices, and warehouses are located in Orange, California and have distribution centers in California and North Carolina to supply dealers and provide safety solutions coast to coast.
Even though removable pool fences can be an ideal safety solution, a fence isn't always the right solution for every situation. The vast array of water features and individual needs and wants require unique and innovative solutions. This prompted the addition of safety nets and safety covers to the product line. Exposure to virtually every type of pool fence and cover challenge has led to the creation of the large and varied selection of safety solutions offered today.
All-Safe pool fence installations can be found nationwide and range from a safety net covering a small hot tub on a wooden deck to multiple nets securing a series of ponds on an estate. All-Safe fences can be found surrounding multiple water features from a small fountain in a courtyard to Olympic sized pools overlooking the ocean. All-Safe has the largest selection of safety products in the industry and have a safety solution for every home and business in the nation.
All-Safe's Southern California market includes Orange, Los Angeles, Riverside, San Bernardino and Ventura counties. In these areas, All-Safe estimators meet with the pool owners at the pool site, provide a free safety analysis and cost estimate and help the pool owner determine which product is best suited to their individual needs. The product of choice is then installed by local, factory employed technicians and backed by All-Safe's outstanding manufacturer warranty.
Other areas of the United States and several foreign countries are served by independent All-Safe dealers, who purchase, sell and install All-Safe products. While they are not All-Safe employees, they are factory trained and uphold the reputation All-Safe has maintained as a caring, customer oriented company. They will provide a free estimate and install products that are backed by All-Safe's manufacturer warranty.
Pool owners look to All-Safe for informative safety and product information and All-Safe looks to pool owners to recommend All-Safe. Customer referrals, as well as referrals from pool builders, pool supply stores, Pool service technicians and the pool Industry in general, also account for a large volume of All-Safe's business.
All-Safe is honored to be the exclusive vendor chosen by the Child Abuse Prevention Center to provide swimming pool safety barriers as one of the building blocks of a healthy home for the families it serves. Partnering with the Children's Hospital, drowning prevention network, fire authority, and multiple other public agencies has also been important in helping All-Safe promote public awareness and in saving lives.
All-safe cares about their customers safety and is eager to help find the perfect swimming pool safety fence solution http://www.allsafepool.com
Release ID: 106547