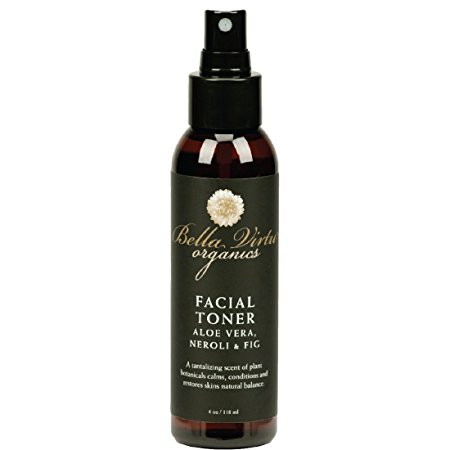 - November 30, 2017 /PressCable/ —
An all-natural, certified organic beauty product is now available to rejuvenate and energize tired, aging skin. The Bella Virtu Organics Facial Toner is the perfect splurge for a gift or just because this holiday season. Rehydrate and soothe just in time for those office parties and holiday photos.
https://www.amazon.com/Organic-Face-Toner-Astringent-Women/dp/B072T32Q6D
Most beauty products contain a long list of ingredients, most of which cannot be pronounced by the common person. Wouldn't it be reassuring to not only be able pronounce but also understand what a product is made of? There are just four ingredients in the Facial Toner formula. This is an amazingly small number of essential oils that tone, firm, and improve the skin's appearance, specifically chosen for their particular attributes. Reduce inflammation and discoloration while tightening and toning.
Neroli distillate is added to the formula because of its astringent qualities and a beautiful orange blossom scent. Aloe vera is a known healing agent containing vitamins, as well as an excellent skin hydrator. Glycerin and fig oil moisturize and balance the skin.
Mist morning and night on the face, neck, and chest, or dab on with a cotton ball. Refresh anytime during the day for a boost. The best practice is to follow directly after with the Bella Virtu Organics Facial Serum. For a limited time, buy two products on Amazon and save 10%.
All skin types and tones can use Bella Virtu Organics products. They are made with USDA-certified organic oils, and are cruelty-free packaged in an eco-friendly glass bottle. This holiday season, support a company with ethics and integrity. Their motto is "To Forge The Gap Between Beauty and Health." With all-natural, luxurious products sourced from high-quality botanicals, these beauty products are something different that must be experienced. Pure, effective, gentle, and safe, try the Bella Virtu Organics Facial Toner and the whole range of products today.
For more information go to https://www.amazon.com/Organic-Face-Toner-Astringent-Women/dp/B072T32Q6D
Release ID: 267983