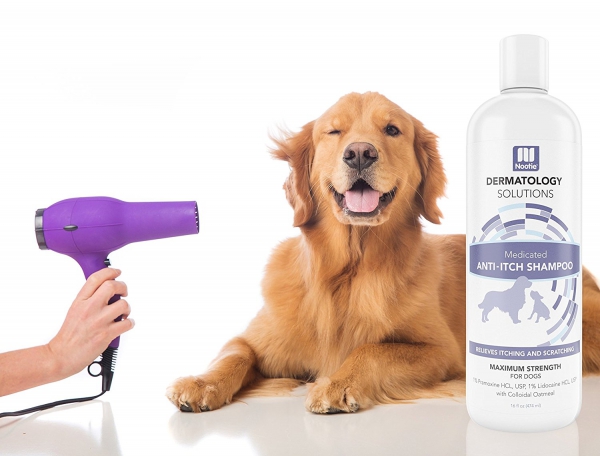 - December 27, 2016 /PressCable/ —
Nootie has developed an anti-itch dog shampoo with a very special ingredient that consumers are raving about. It's oatmeal! The oatmeal dog shampoo for itchy skin, available at https://www.amazon.com/Medicated-Anti-ITCH-Formulation-Lidocaine-Pramoxine/dp/B0108LVNHE is an extremely innovative product that helps sooth and heal irritated skin on dogs. Environmental factors can cause dogs to scratch and itch till no end, which is why pet owners are loving how well the Nootie anti-itch oatmeal shampoo works.
"Our anti-itch formula is a winning product," a Nootie rep comments, "Not only do the Lidocaine HCL, Pramoxine HCL, and colloidal oatmeal make for a great combination, but we managed to make it smell fantastic as well! We worked long and hard on this product, which is why we are so excited about the flood of positive Amazon reviews that have come in. We are also noticing a climb in sales for other Nootie products as well as customer loyalty has increased."
At print time of this press release, the Nootie puppy shampoo has over 90% positive reviews on Amazon, with the majority of them being 5 stars. Pet owners are ecstatic over how well the product works. "My dog has very dry skin and she digs at herself all the time after receiving this product I decided to go straight and try it it's wonderful smells awesome and made her smell good and her coat even looks so shiny I would highly recommended that you buy this if your dog has dry skin I am so going to be buying more!" one customer writes.
What is fantastic about this product is that it won't affect any tick and flea medications that a dog might be on, "Nooties Medicated Anti-itch shampoo for dogs is a wonderful shampoo for your furry friends! This shampoo helps to soothe your dog's itchy skin and helps to keep him from itching and scratching," one customer writes. "It is completely soap free and will not affect the flea and tick treatments you use on your dogs. This shampoo is not your typical shampoo. It is medicated and has oatmeal to help reduce itching. It works well in conjunction with the Nootie anti itch spray conditioner to keep your dog's skin and hair in wonderful condition."
Visit Amazon to purchase Nootie oatmeal dog shampoo or other formulas that pets will love.
Release ID: 156452