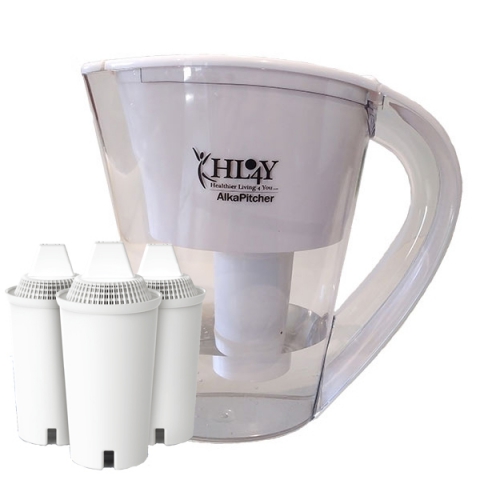 - May 26, 2017 /PressCable/ —
Healthier Living 4 You (HL4Y) have launched a new improved water filter pitcher. The AlkaPitcher is an alkaline water filter pitcher designed to alkalize water, improve its taste and now helps remove unwanted chemicals such as fluoride and arsenic.
For more information please visit the website here: https://healthierliving4you.com/product/alkapitcher-alkaline-water-filter-machine.
HL4Y was founded in 2004 by John Jacobs. John began the company after him and his family's successful experiences with alternate health solutions. The complete story can be read on the website. The family run business aims to provide individuals, businesses and healthcare givers with high quality alternative healthcare information and top notch products to help detox and alkalize the human body.
John and his family have personally tested and created the products they sell and are always researching the needs of their customers. The site explains that their success has led to the development of a series of products including the AlkaPitcher.
HL4Y have recently launched their new and improved alkaline water filter pitcher that is one of the best ways to make portable alkaline water. The AlkaPitcher alkalizes tap and bottled water and helps to remove unwanted ingredients including pesticides, organic pollutants, chlorine and sediment. The new and improved version also now helps filter out fluoride and arsenic. The user is left with clean tasting and odor free drinking water.
The AlkaPitcher is made from BPA free plastic and holds a vast 2.5 liters of water. The product comes complete with three filters which contain activated carbon, activated alumina, ion exchange resin, negative potential ball (ORP) and tourmaline. The AlkaPitcher helps to maintain a pH level of 8.5-9.5 and ORP of -100mv to 200mv.
Other products have been developed by the company and include the HL4Y ionic foot bath known as the HL4Y 3 in 1 FIT System- Premium Detox Foot Bath. Having the Far Infrared Heat, Ion Detoxification and a TENS unit all in the same machine, provides three therapies in one to restore energy and treat pain more effectively.
Those wishing to find out more about the company and their products can visit the website on the link provided above or call 1-866-745-5743.
Be sure to go to the link above as well to read some awesome alkaline water filter reviews!
Release ID: 202930