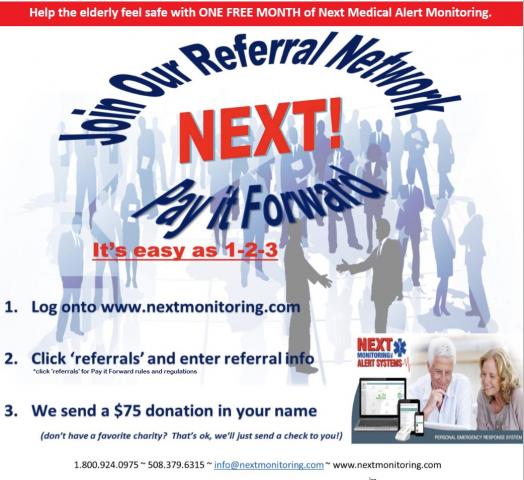 - October 17, 2019 /NewsNetwork/ —
October 17, 2019 – Swansea, MA. Alert Medical monitoring firm just announced the start of Next Monitoring Inc.'s charitable program "Pay It Forward With Next Monitoring." Raymond D. Melanson founder and president stated, "It's a very simple yet rewarding program, geared to help senior citizens and the charitable organizations that support them."
The program has an easy to use format where a health professional can log onto http://www.NEXTmonitoring.com/referrals to sign up as a member of their referral network. NEXT Monitoring contacts the professional and the referred individual to gather their personal information. At this point Next Monitoring gives the newly referred customer their first month of service for free and then sends a $75.00 donation to the charity chosen by the health care professional.
https://www.youtube.com/watch?v=maretOG5uCc.
The Pay It Forward is not new. In fact on April 25, 1784 Benjamin Franklin was the first to describe the concept in a letter to his friend Benjamin Webb.
The company added this concept into their business model in the hopes of spreading the word to more health care professionals and other companies that might decide to do something similar to help out the charitable organizations. Mr. Melanson is a firm believer that everyone needs to do their part and give back to the communities they serve. He has made a commitment to donate $1,000.00 by December 25th, 2019.So far, he and his team have made donations to the Alzheimer's Association, Breast Cancer Awareness, Elder Abuse Prevention, Bristol County Veterans and SAFE. Everyone has the opportunity to select the charitable organization they want to receive the donation.
http://ubcnews.world/medical-alert-firm-expands-monitored-emergency-safety-systems-gps-alarms-ma-ri/.
NEXT Monitoring is 100% focused on improving the lives of the senior citizen community.They are the # 1 provider of leading-edge medical alert monitoring systems GPS location tracking and their EverThere cloud services thought out New England, with offices in Ma and RI. There are quite a few advantages of working with the company, but the primary advantage is by far the their installation team. Next Monitoring only uses licensed and insured electricians for medical alert system installations. This provides customers with free testing of fire and carbon monoxide alarms, electrical sockets, phone jacks and a comprehensive tutorial on how to use their medical alert system. NEXT does not need to go the extra mile; in fact, most medical alert providers don't even offer an in-home installation. NEXT Monitoring does this because the company truly embodies the pay it forward concept.
https://www.youtube.com/watch?time_continue=56&v=AH80Q3i_k-U.
For more information, questions or for additional elder assistance resources contact NEXT Monitoring at 1-800-924-0975 or 1-508-379-63215.
NEXT Monitoring, Inc.
1614 Grand Army of the Republic Highway, Swansea, MA 02777, United States
1-508-379-63215
Release ID: 88928595