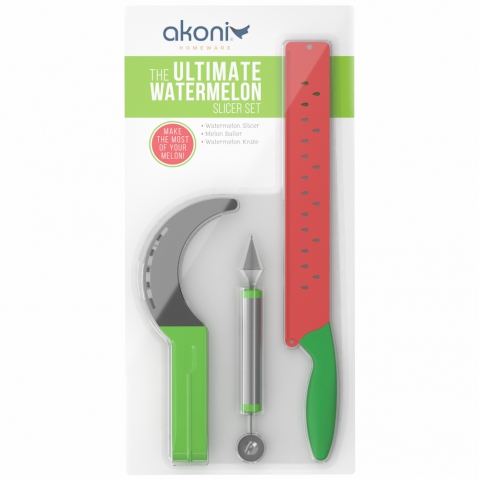 - April 8, 2017 /PressCable/ —
This week, Akoni Homeware have launched a brand new product onto Amazon.com. The product is the third that the brand have launched in the last 6 months, the previous two products being a Salt & Pepper Grinder Set and a Popsicle Molds Set.
Since launching their new Watermelon Slicer Set onto Amazon.com just a couple of days ago, Akoni Homeware have seen their first few orders begin to arrive. It's an exciting moment for the brand who have been planning the launch of their slicer set for many weeks.
"All of our stock is handled by FBA, so although we don't personally send the stock out ourselves, it's very exciting to see people buying our set." said Lisa from Akoni Homeware, "We hope that this interest will continue to gather pace and that more customers will discover our latest product."
Akoni's Watermelon Slicer Set are made from high quality stainless steel, to give the kitchen tools a sleek and stylish look as well as a practical edge. The set consists of 3 tools made from high quality stainless steel with comfortable, practical and ergonomic handles. The tools, a watermelon slicer, melon baller and fruit sculptor, and a 11.5 inch watermelon-themed knife have all been tried and tested with working Moms in mind.
"Our target audience are families who want a high quality, reliable and reasonably priced product. We believe that we have the slicer set that meets the needs of our audience." continued Lisa, "We have put our set through multiple tests to ensure that it can withstand the demands of an everyday family."
The brand hope to sell their brand new product on more Amazon marketplaces in the future, especially European marketplaces that have recently thrived for their other products. The brand currently sell on both Amazon USA and UK.
The Watermelon Slicer Set from Akoni Homeware is now available from Amazon.com: https://www.amazon.com/Three-piece-Watermelon-including-Attractive-Watermelons/dp/B01LXS02Z6/
Release ID: 184426