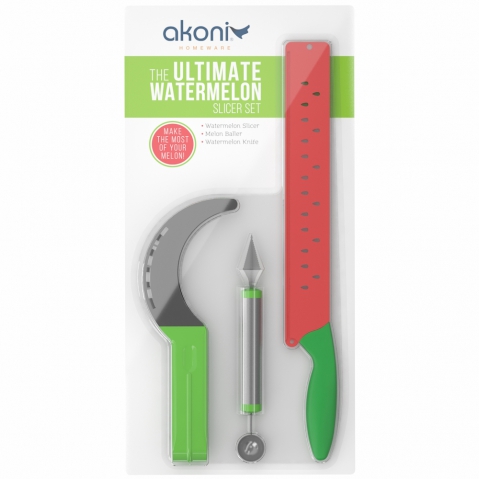 - April 7, 2017 /PressCable/ —
Akoni Homeware, a brand new kitchen and dining brand based in Beaverton, Oregon, have launched a brand new product, a Watermelon Slicer Set, onto Amazon U.S.
The Watermelon Slicer Set is Akoni Homeware's third product on Amazon, after the brand launched their Salt & Pepper Grinders and Popsicle Molds Set earlier this year. The brand pride themselves on creating products that support the heroes of the home. The word 'akoni' means 'hero' in Yoruba, a language from West Africa that is spoken by almost 30 million people worldwide.
The set from Akoni contains 1 watermelon slicer, 1 melon baller and fruit sculptor and 1 11.5inch watermelon-themed knife.The set is designed to be both practical and stylish. Each piece of the 3-in-1 set is made from high quality stainless steel.
"Every part of our Watermelon Slicer Set is designed to be both useful, mess-free and easy to use. We recognised that people struggled to cut up their watermelons so we have included a large knife to ensure that cutting a watermelon open never has to be a problem again. We also recognised that customers like to sculpt their fruit for special occasions so we added a fruit sculptor to the other end of our melon baller." said Lisa Miller from Akoni Homeware, "We hope that our customers will be pleased with the quality and modern design of our slicer set."
Although the brand have only just launched their product onto Amazon's U.S marketplace, they have high hopes of launching on further Amazon marketplaces in the near future.
"Successfully launching our product and gaining rank quickly on Amazon U.S is our primary concern at the moment, but we are always looking for new ways to grow our company and customer base." continued Lisa, "We've already launched other products in the UK and we would be looking to sell the set in Europe if it proves to be popular with U.S customers."
Akoni Homeware's Watermelon Slicer Set is now available from Amazon U.S: https://www.amazon.com/Three-piece-Watermelon-including-Attractive-Watermelons/dp/B01LXS02Z6/
Release ID: 184106