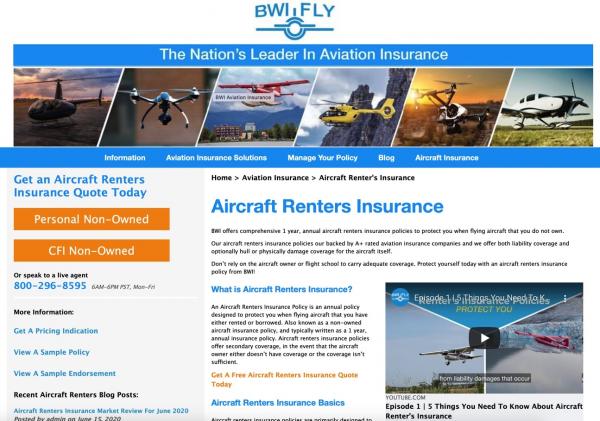 - November 7, 2020 /PressCable/ —
BWI Aviation Insurance announces the launch of its video covering aircraft renter's insurance. The video comprises details on five things one needs to know about the importance of aircraft renter's insurance.
The video can be view at https://www.youtube.com/embed/78uaME11G-M
According to the newly launched video, an aircraft renter's insurance policy is an important asset, especially for those individuals who are flying or renting an aircraft that they do not own. Also known as a non-owned aircraft insurance policy, it is an annual policy designed to protect one when flying an aircraft that one would've either rented or borrowed. It is also designed to help protect the pilots or renters and their families from liability damages.
Answering some of the most frequently asked questions concerning aircraft renter's insurance, the video guide informs that the cost for a one-year basic $250,000 liability is $75. A full, $1M one-year liability, on the other hand, costs $185 per year. BWI Aviation Insurance recommends that those who rent aircraft choose the latter.
The guide continues that aircraft renter's insurance policies generally offer liability coverage. In this regard, one is protected in the event of being legally liable for bodily injury, property damage, and legal defense charges.
Those who opt for a non-owned aircraft insurance policy can expect coverage for third-party bodily injury, third-party property damage, and physical damage to the rented aircraft. Also included in the package is coverage for flight school.
More details on this can be found at https://bwifly.com/aviation-insurance/aircraft-renters-insurance
Listed among the non-owned aircraft covered by the renter's insurance are Single Engine Land Aircraft and Gliders, inclusive of standard, experimental and light sport aircraft that are powered by a reciprocating piston engine. Single Engine Seaplane Aircraft and Multi-Engine Land Aircraft are also under coverage.
Speaking on behalf of the company, a representative noted that BWI Aviation Insurance renter's policies are backed by A+rated aviation insurance companies. Hence the availability of both liability coverage and the optional hull or physical damage coverage for the aircraft itself.
Many pilots believe that their flight school or FBO has insurance that covers the pilots renting their aircraft, but according to the spokesperson, this is not the case. As such, BWI Aircraft Insurance advises that pilots not rely on the aircraft owner or flight school to provide coverage for them.
Interested parties can click on the links above to find out more.
Release ID: 88984660