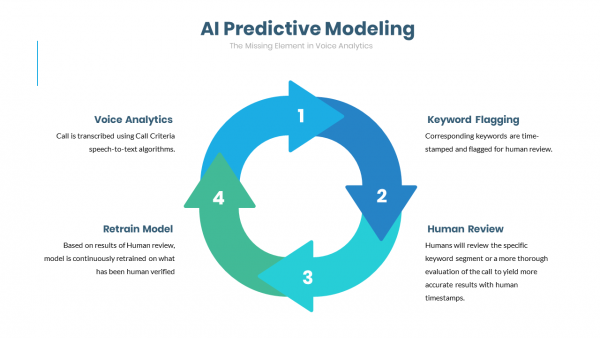 - July 18, 2020 /PressCable/ —
Call Criteria launches their AI-enabled voice analytics services for businesses looking to improve the efficiency of their call center operations. The company based in Los Angeles, California complements artificial intelligence with human reviews to ensure high levels of accuracy.
Additional information can be found at https://callcriteria.com
Through their newly launched services, Call Criteria presents a viable, more economical alternative to integrating the latest QA technologies or hiring and maintaining an internal QA team. Voice analytics technology allows contact centers to sift through large volumes of calls within a short period of time and subject calls that meet predefined criteria through human analysis.
As Call Criteria's CEO Ryan Stomel explains, "The best way to ensure the highest accuracy in call center analytics is by fusing human analysts and voice analytics to review agent-customer interactions. With the use of voice-to-text technology, companies are pulling the calls that have various keywords stated in the recording to identify the right calls to review with human QA analysts."
To keep accuracy high and make sure that all steps are working as expected, continuous improvements to the automated system are essential. The company employs AI predictive modeling to achieve this.
The process starts as usual with transcribing the calls using the company's speech-to-text algorithms. The system then proceeds with analyzing the transcripts and flagging keywords, as defined by the users. Time stamps are also added to facilitate easy review of the segments that have been flagged.
Human review follows. Depending on the need, the analysts may review the specific keyword segments or conduct a more thorough evaluation of the calls with the goal of generating more accurate results. Finally, the model is retrained using the results of the human review as basis for the adjustments.
Specializing in quality assurance, coaching, sales performance, and AI-enabled voice analytics, Call Criteria caters to contact centers from a wide range of industries, including education, mortgage, automotive, utilities, finance, and home services.
Interested parties may visit the website stated above to learn more.
Release ID: 88968881