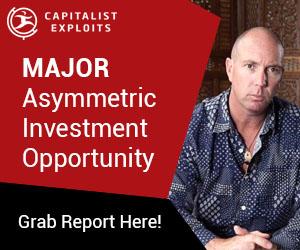 - November 11, 2020 /NewsNetwork/ —
Capitalist Exploits has published its newest report on the investment opportunities that are available to people due to the effects of the current global pandemic on the agricultural sector.
More information is available at https://capexinsider.com/inside-our-agriculture-investment-thesis/?orid=143
The new report from Capitalist Exploits gives readers the benefit of knowledge regarding the impact of lockdowns and other factors caused by the coronavirus pandemic has had on the agricultural sector. The report further explains how people can use this knowledge and market analysis for asymmetric investment.
When looking for investments, people often need to look at what is happening around the world to inform their decisions. This global macro analysis can be vital for successful investing as it allows for asymmetric opportunities to be found and, in turn, build generational wealth. Capitalist Exploits are aiming to bring people this information with its exclusive investment opportunities based on both boardroom and in-the-field professional research in the agricultural, natural resources, and mining sectors.
As the report from Capitalist Exploits explains, the coronavirus has caused issues not just for farming but across the globalized food system, such as the labor market resulting in unemployment and food shortages leading to inflated food prices. This impact has allowed for unique investment potentials to become available for people with the right information and knowledge.
The newly published report regarding the current agricultural sector from Capitalist Exploits comes in the form of a four-part audio series. The series aims to cover areas such as a detailed look at the agricultural industry as a whole, how the current global situation has affected it, and current issues facing the industry, as well as how Capitalist Exploits themselves are investing in the sector.
Capitalist Exploits also offers people information on a range of investment opportunities and news with its weekly email, including a list of areas the company has been looking into each week. A sign-up page for the newsletter can be found here https://capitalistexploits.at/signup/?orid=143&opid=38.
The investment company also offers its more in-depth Insider membership, which offers live portfolio alerts, current trade advice, weekly research, and stock tips, as well as coronavirus-specific trading information. Further information about Capitalists Exploits' Insider membership can be seen here https://capexinsider.com/become-an-insider/?orid=143&opid=35
Interested parties can find more information by visiting the websites mentioned above.
Release ID: 88985147