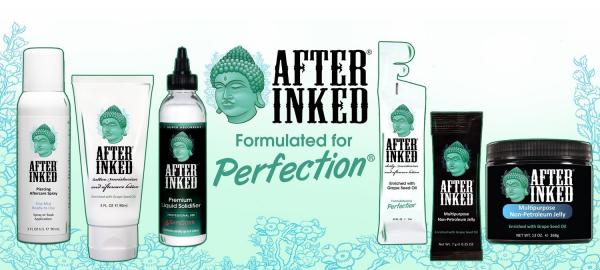 - October 24, 2018 /PressCable/ —
Body4Real has expanded its range of After Inked products so that customers can care for their new tattoo in the best way. Using FDA approved After Inked products rather than homemade products is the best way to look after a new tattoo and help to encourage a smoother healing process.
More information can be found at: http://body4real.co.uk
After Inked tattoo after care products are unique in that they are specifically designed to be a premium tattoo moisturizer that gets its healing properties from its patented formula.
It is designed to provide effective skin moisturizing during and after the tattoo process, so anyone who has got new ink can rest safe in the knowledge that they're giving it the best post-ink care and treatment.
In addition to this, the aftercare products help to preserve the colors of a tattoo while it heals. Sometimes the colors of a new tattoo can fade, and when this happens it leaves people feeling disappointed in their artwork, because it doesn't look like they hoped it would.
Caring for the tattoo after getting it done can help to protect the design. After Inked products are non petroleum based, so they won't stain or ruin clothes or bedsheets when used.
It's easy for anyone to apply their After Inked product. All they have to do is apply a thin layer on the area of skin they they want to protect, and gently massage it until the product is no longer visible.
After Inked used a unique blend of ingredients infused with grape seed oil, making it an all natural alternative to other products and homemade solutions to tattoo after care.
A range of items is available on the Body4Real site, including body spray, antibacterial soap, ink seal spray, and aftercare spray. Full details of each product can be found by clicking into the item description page.
Interested parties can find out more by visiting the URL above.
Release ID: 430885