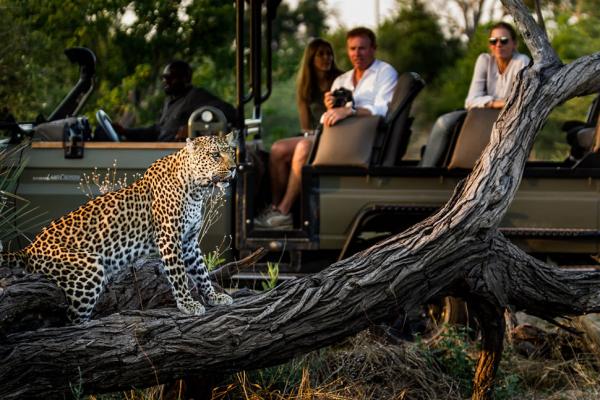 - October 11, 2020 /NewsNetwork/ —
The best African safaris for Australians combine adventure with highly personalised service.
For those who are tired of the impersonal business of booking a holiday online only to find themselves on their own at a destination that doesn't meet their expectations – expert help is available. Safari Guru, a boutique business owned by man-of-two-flags, Deon De Villiers, offers an ideal solution.
Deon's background includes the management of renowned Safari Camps and luxury lodges as well as Africa-wide travel. As a South African, and a former local, there's little or nothing he doesn't know. His African travels led him to spend years in other African countries too, and as a former IT executive who was flown from luxury hotel to luxury hotel, he has first-hand experience of travel from a customer perspective. "It's about making people feel special," he says.
African wildlife is certainly among the big attractions for conservation-oriented travellers. But there's more to it than jaws, claws and paws, says Deon. They're looking for a full-scale African experience, and they want to learn about the local people and patronise establishments that actively uplift often-impoverished communities and lead the way locally in conservation.
Variety is the spice of life, so for some, a tour might include several nights enjoying cities like Nairobi or Cape Town before being whisked off for their journey into the bush. Many client's don't know this but there is also a huge variety in safari experiences – certainly no 'one bush fits all' experience! So through careful questioning he is able to discover exactly what they're dreaming of when they dream of Africa and exactly what might fit their expectations, interests and lifestyle. Whether its leopard sightings or photo safaris, hot-air ballooning or boating experiences with hippos, crocodiles and birds, vast plains with lots of game or thick woodland full of elephants that capture their imagination and fulfil their story, Deon is able to match people to places.
But there's more to Deon's service than just cities, villages, and safari camps. He delves deep to discover those little details that make people feel valued as individuals: the wines or other drinks they love, the foods they prefer, and even the snacks they'd like to nibble while out in the safari vehicles are all part of the brief. Host camps are given specific instructions, pleasantly surprising their guests with all their favourite things.
Getting there and getting home needn't be stressful.
Exploring a new country is exciting, but it can also be stressful. Getting from airports to hotels, and dealing with any unexpected happenings that may affect itineraries, are par for the course of global travel, and not all travellers can say they've enjoyed a stress-free experience.
But this does not have to be the case if you have an experienced professional like Deon making sure that your safari logistics and planning are sound, and offering backups of both foreseen and unforeseen risks as far as possible.
"We manage every detail from airport transfers to bookings and cancellations," he says.
Using the Covid-19 crisis as an example, he explains how his team on the ground helped a couple who had a swift change in plans. "Our personal Cape Town based guide took them for lunch in the heart of South Africa's famed wine region, Stellenbosch, and then to the airport to catch the very last British Airways flight out of Cape Town," he says with quiet pride. "The day was a lot more pleasant than expected, and by the time they landed back home, all outstanding bookings had been rescheduled so that they can resume their adventure at a more favourable time."
Booking agents are two-a-penny, but De Villiers is much more than that. Thanks to his personal experience in Africa and individualised service, travellers may end up visiting places they otherwise wouldn't have discovered, moving outside the mainstream "tourist traps" and package tours and into the wilderness of their dreams.
The magic of Africa means different things to different people, but thanks to his expertise and dedication to enhancing the overall experience, Safari Guru, under the leadership of Deon De Villiers, ensures that his clients have the magical experiences they envisioned, and more, with full support and backup along the way.
For more information visit the African Travel Specialist | Safari Guru website or call Deon De Villiers and his team of experts on (+61) 0427 782 226.
Syndicated by Baxton Media, The Market Influencers, Your Digital Marketing Agency.
Release ID: 88979196