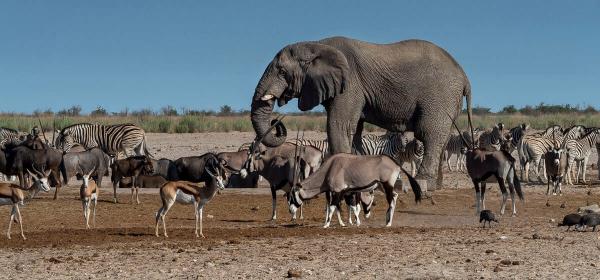 - June 13, 2019 /PressCable/ —
There's a reason why Namibia is one of the top safari destinations in all of Africa. The natural beauty is both astounding and diverse, ranging from pristine coastlines to the iconic red dunes of Sossusvlei. And, the night skies are filled with more stars then you could ever imagine.
This is why Bob Wild, the internationally acclaimed landscape photographer, leads African Safari Photo Tours to this region. He has chosen to specialize in Namibia because the opportunities for photographers to capture stunning images are boundless.
More information can be found at https://africansafari.io.
Bob created a Safari with safety in mind. Clean water, well-maintained roads, and hospitable accommodations are some of the features that make taking a Safari with African Safari Photo Tours a great choice, especially for those who have never been on a safari before.
Knowing where to go as well as when to go to different locations is one of the reasons that seasoned photographers, even those that have been on safaris before, choose to take a tour with Bob. His tours are highly sought-after by photographers due to his in-depth knowledge of the region, expertise in natural light photography, and the relationships he has developed in Namibia over the years. The biggest complaint that African Safari Photo Tours has received from photographers is that they wished they had brought more memory cards along to capture all the amazing imagery.
While the landscapes are surreal and can truly take your breath away, the wildlife is the top reason people make the decision to go on a safari. Etosha National Park is one of the locations to which Bob takes photographers because it is Namibia's largest wildlife sanctuary. Etosha National Park is teeming with life. It has the perfect spots for photographers to capture remarkable images of elephants, lions, giraffes, zebras, and rhinoceros, just to name a few.
When asked about the safari photo tours, Bob states that the experience is profound and says, "You'll attempt to capture the beauty on camera, but it's the memories of these sights that will live on forever in your heart. Spitzkoppe is one such place where the landscape provides a backdrop for some amazing photos, but actually sitting under and staring up at the night sky cannot fully be described nor can it be captured in a photograph."
Spitzkoppe mountain ranges offer unique lighting opportunities with narrow gullies and steep walls, which make the most amazing contrasting shadows for photographers to explore, not to mention the gorgeous variety of color tones and the rich color formations in the granite.
Deadvlei is another stop on the tour, best known for its "forest" of dead camel thorn trees, which provide another unique photo experience.
African Safari Photo Tours makes sure that the lodging accommodations for their groups are top notch, with all the important amenities. Strategically scheduled times afford the groups to retreat back to the lodge during midday when the desert can get very hot and overwhelming. A hot shower to rinse off the dust is much appreciated after walking the desert in search of that perfect shot. It is also a time to take the opportunity to view the images captured during the morning shoot.
The website features all the important details, such as what is included and what is not included, tips on what clothing to bring, camera gear, as well as information on travel insurance. More information is available at the link above or any questions can be answered by calling African Safari Photo Tours at (250) 261-5317.
Release ID: 523107