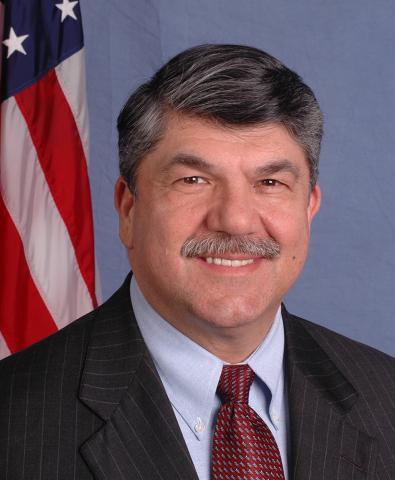 - September 7, 2020 /PressCable/ —
AFL-CIO President Richard Trumka praised the platform presented by Joe Biden and the Democrat Party, calling it, "the most progressive platform I've seen in my lifetime."
Trumka made the comments during a pre-recorded segment for the Sept. 7 Labor Day edition of America's Work Force Union Podcast. During his interview with AWF host Ed "Flash" Ferenc, Trumka discussed the landscape of organized labor in the midst of a global pandemic and the upcoming U.S. Presidential election.
He praised the Democratic Party and Joe Biden for understanding that major changes need to be made in America.
"The platform the Democrats adopted is the most progressive platform I've seen in my lifetime," Trumka said. "It rivals the platform of Franklin Delano Roosevelt and it was spawned and sponsored by Democratic candidates – Joe Biden, (Kamala) Harris, Bernie Sanders and by a bunch of others like Elizabeth Warren.
"Joe Biden's Build Back Better Plan recognizes that what we're going through right now is not just a cyclical downturn, it is the structural flaws of inequality and unequal bargaining power between management and workers and systemic racism and decades of under investment in our infrastructure," he said. "The poor conditions of our schools and the lack of support for our teachers, our flawed and costly healthcare system have all been exposed as weaknesses that are holding America back and they need to be fixed."
Trumka also touched on a number of other topics during his 30-minute interview including worker safety, the underfunding of the Occupational Safety and Health Administration, the administration's attack on organized labor through the National Labor Relations Board and the troubles faced by the U.S. Postal Service.
The current stacking of the federal court system by Republicans was another topic. Trumka questioned how many federal judges appointed by the U.S. Senate pass muster when they have been labeled as unqualified by the Bar Association.
The response by the Trump administration to the coronavirus pandemic and to overall worker safety has led to union approval ratings reaching their highest point in the last 50 years, Trumka said, adding that he expects more collective bargaining efforts to begin. He referenced a report indicating more than 60 million people said they would join a union today if given the opportunity.
"Labor Day 2020 is a chance for us to change the direction of this country. I know of a lot of workers out there who don't believe the political or economic system works for them, but now is a chance to change that," Trumka said. "Joe Biden will help us change those rules so that the system works for us."
America's Work Force Union Podcast is the nation's trusted voice for union workers across the country. The podcast provides a clear and unfiltered voice for the working people of America by focusing on topics such as the impact of labor unions in America, workers' rights, legislative actions and labor-management relations.
A new episode of America's Work Force Union Podcast is available Monday through Friday on awfradio.com, Apple Podcasts, Google Play and wherever you stream your podcasts.
Release ID: 88975644