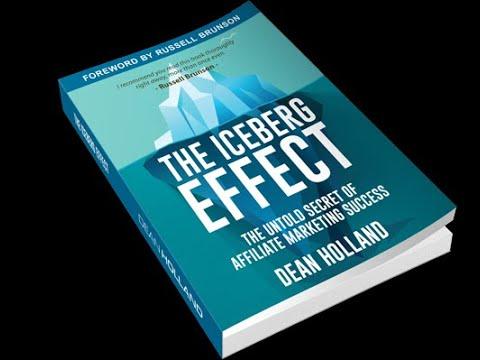 - January 8, 2022 /PressCable/ —
Peter Kwah, Growth Specialist at PK Consulting Agency, launches a new product marketing book for those interested in growing their business online. Business owners and entrepreneurs may sign up to receive the book "The Iceberg Effect" by Dean Holland, Kwah's Certified Partner and a veteran entrepreneur.
More information is available at https://www.peterwithdean.com/pk-free
After experiencing success first-hand from using Dean Holland's marketing strategies, Peter Kwah desires to put Holland's book into the hands of other aspiring entrepreneurs. Before meeting Dean Holland, Kwah struggled with marketing for years and believes that this book will be a game-changer for many others who are still struggling. Through this launch, Kwah and Holland hope to help others find success and, by doing so, gain long-lasting, business relationships that will be mutually profitable in the future.
"The Iceberg Effect" focuses on four components of marketing: traffic, capture, follow-up, and a sales system. The book outlines ways to drive customers to a website, capture and build an audience, follow up with clientele, and implement a sales system. The key to making high-value commissions is found in the success of the sales system and is the central focus of the book.
Upon visiting their website, aspiring entrepreneurs can click and enter their email to access video training. After viewing this 10-minute training, interested parties may click again to claim their softcover book.
In addition to the softcover copy of "The Iceberg Effect," customers will also receive an audio version of the book. This MP3 version is read aloud by Holland and helpful for the avid traveler.
Online access to "The Iceberg Effect Masterclass" will be given to customers as well. "The Iceberg Effect Masterclass" is a guide to the central ideas of the original book. Holland and Kwah offer "seven days of surprises" to all customers waiting to receive their book in the mail. These extra perks will be sent via email.
For entrepreneurs who are not satisfied with the insights in the book, Holland, and Kwah offer a 30-day "better than free" guarantee. This means any unsatisfied customer can have their shipping cost refunded and still keep their book.
PK Consulting Agency, located in Singapore, specializes in media and local business growth. The agency assists businesses in increasing their customer base using media exposure.
Russell Brunson, Co-Founder of ClickFunnels, said: "I recommend you read this book thoroughly right away, more than once even. With Dean Holland, you couldn't be in better hands."
Entrepreneurs interested in Peter Kwah's free book offer can find more information by visiting https://www.peterwithdean.com/pk-free
Release ID: 89058054