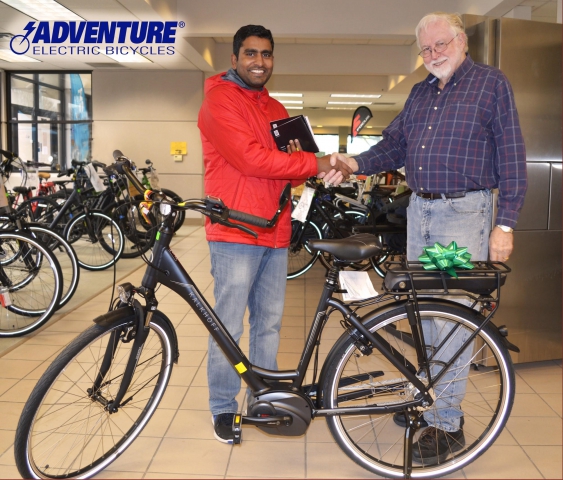 - December 31, 2017 /PressCable/ —
Arlington, TX — This Christmas was certainly a happy one for Santosh Cherukuri, who was gifted an electric bicycle valued at $2,500. It wasn't the work of Santa or a beloved family member, but rather, Adventure Electric Bicycles, the first all electric bicycle shop in Arlington Texas.
In August of 2017, Adventure Electric Bicycles began promoting the giveaway of an electric bike for Christmas. The drawing was available to various groups of people; those who came into their store, attended an event or recieved a flyer in the mail. It was also promoted on their social media pages and via email. The winner was selected, at random, on Saturday, December 23, and was given the option to choose one of five pre-selected electric bicycles.
On Wednesday, Cherukuri arrived at Adventure Electric Bicycles to select his prize. "Never in my life have I gotten anything for free" said Cherukuri ecstatically. "This is something that I really love and am looking forward to having. So when I heard that I won it, I was on top of the world!"
After testing out a few different models, Cherukuri decided on the Kalkhoff Agattu B7, a German engineered electric bicycle complete with an Internal Gear Hub, 250 Watt Bosch Performance Line Motor, and a range of over 100 miles.
Cherukuri first learned about electric bicycles in August when Adventure Electric Bicycles attended an event hosted by Southwest Airlines Headquarters in Dallas, where Cherukuri works. "I'm a 'Go-Green' person", he explained. "I recycle and I care about the environment, so I'm into these new inventions that help me to do my part as much as I can."
Cherukuri was actually saving money to purchase an eBike when he was selected as the winner of the drawing. "Learning the capacity that these bikes have made me realize 'wow, this is something that I really need to have!'" he said.
Electric bicycles have taken the world by storm in the last few years. Operating on an average energy cost of just 10 cents per day, they are very practical and eco-friendly. Additionally, electric bikes don't require any of the extraneous fees that cars do, such as license, registration, inspection, gas, or parking fees. For these reasons, many people choose to use an electric bicycle instead of their car.
Cherukuri plans to use his electric bicycle to run errands, get exercise, and enjoy the fresh air. The bike shop's owner, Alex Ryan, plans to hold more drawings like this in the near future.
For more information on Adventure Electric Bicycles, contact Alex Ryan at 972-641-7771.
Release ID: 282630