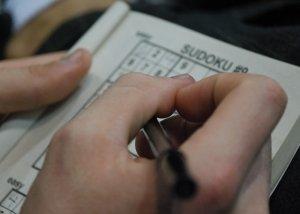 - June 1, 2020 /NewsNetwork/ —
Sudoku Professor announced an update that includes new solving techniques just in time for the one year anniversary of the new Doctorate Course for players who prefer more challenging puzzles.
For more information, visit https://sudokurpofessor.com/products
The course covers difficult to master techniques favored by veteran puzzle solvers.
"[Sudoku Professor] released the course to our most advanced students last year, and they absolutely loved it," says Chad Barker, known to Sudoku enthusiasts and students as the Sudoku Professor. "The feedback on the new updates and high-level solving patterns has been phenomenal so far."
The updates include new solving techniques designed for puzzles with the hardest ratings. It contains video lessons, downloadable puzzles, and step-by-step walkthroughs for things like the 'Swordfish' and 'Jellyfish' methods.
Sudoku is a popular game originating in Japan involving the numbers 1-9 arranged on a grid containing 9 rows and 9 columns divided into 9 boxes. Puzzles require players to use logic and reasoning to arrange these digits into unique, non-repeating arrangements based on the numbers provided as 'givens' to start a puzzle.
Many Sudoku publishers including websites, apps, and newspapers, assign their own difficulty ratings to the puzzles. There is no universal standard for these ratings, often with wide variances in the rating methods of various Sudoku sources.
Puzzles ratings for difficulty often reflect the number of given digits at the beginning of a puzzle or the difficulty of the logic necessary to arrive at the correct solution.
"Many of our students have made Sudoku a way to stay sharp and entertain themselves at the same time," offered Barker. "For the advanced players who take the Doctorate Course, these new methods and lessons are just the right blend between extremely challenging and tremendously exciting."
Sudoku Professor has been teaching enthusiasts how to solve Sudoku with online lessons and videos since 2008. More than 150,000 customers have taken the lessons, according to information available on the company's Facebook page.
For more information about Sudoku Professor, visit the company's website at https://sudokuprofessor.com
Release ID: 88959812