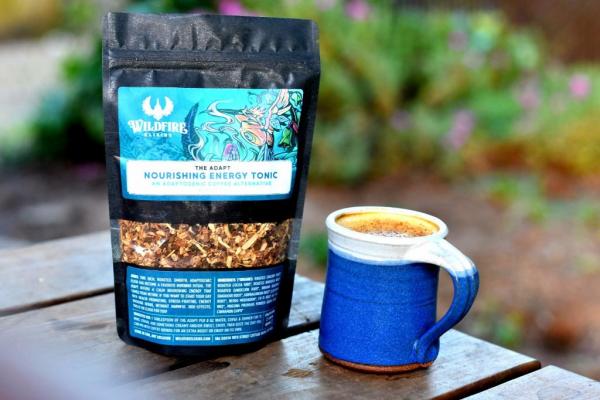 - November 10, 2021 /PressCable/ —
Wildfire Elixirs, a small business based in Cottage Grove, Oregon, recently launched a new product line to the health and wellness market! The Adapt is a rich, roasted, smooth, adaptogenic elixir that has become a favorite morning ritual for people who want to start the day with nourishing, health-promoting, stress-fighting, energy-boosting herbs without harmful side effects.
Wildfire Elixirs is a mom-owned and operated business specializing in fire tonics and other immune-boosting products.
"Our mission is to bring health and vitality to our community and beyond using plant medicine," said Annie Fisher, owner of Wildfire Elixirs. "We believe healing can come from the green earth around us, and its array of medicinal botany serves as a gentle reminder that everything we need is provided by nature."
The Adapt provides a healthy alternative to coffee and offers sustainable energy without the jitters, Fisher said.
"People are prioritizing health and wellness more than ever these days and are increasingly demanding better, tastier, and healthier options when it comes to the food they consume," she said.
Fisher established her business a little over two years ago, and it quickly gained popularity due to the power and effectiveness of Wildfire Elixirs' immune-boosting tonics.
Wildfire Elixirs first release was its flagship blend of fire tonic, The Fighter, a complex, savory, sweet, spicy, tangy elixir that harnesses qualities of various medicinal botanicals that support immune function for digestive health, detoxification, reduced inflammation, vitality, and balance. Next came The Relief, an invigorating raw apple cider vinegar fire tonic with the same ingredients as The Fighter plus additional herbs to ease allergy symptoms. The Lungs, followed as a tonic crafted to heal, open and strengthen the respiratory system.
Another popular Wildfire Elixirs product on the market is The Digest, a digestive tonic packed full of medicinal botanicals, adaptogens, and a healthy dose of ginger to support digestive health, wellness, and balance. Fisher also crafted an elderberry syrup called The Shield, a traditional cold and flu remedy with added adaptogenic roots and medicinal mushrooms, a product especially popular with children.
The Fighter seasoning salt is another new addition to the Wildfire Elixirs family of health and wellness products. The Fighter is made with pink Himalayan sea salt infused with roots, herbs, fruits, veggies, adaptogens, and mushrooms to give any meal a healthy boost.
Wildfire Elixirs frequently works on new blends that are offered in small batches for sale on its website. To learn more about Wildfire Elixirs and to purchase its products, visit the website, www.wildfireelixirs.com. Also, follow Wildfire Elixirs on Instagram @wildfireelixirs.
Release ID: 89052508