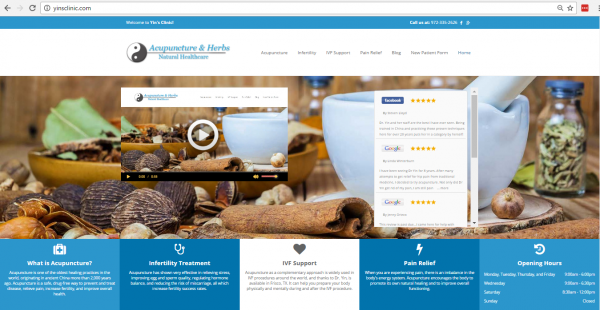 - March 7, 2017 /PressCable/ —
Now, women with infertility issues and those who are wanting a natural pregnancy solution, as well as those undergoing or planning to undergo In Vitro Fertilization (IVF), and that are wondering if acupuncture for IVF will help them, they can now find a new and powerful web-based acupuncture information service system in Frisco, TX.
Almost everyone can benefit from acupuncture and or Chinse medicine. Now anyone can gain new and powerful information by utilizing the Yin Clinic's online web service. Those who seek relief from pain or other human ailments will find hope in the videos and other digital information systems in this new web-based asset.
The hundreds of conditions that can be helped are listed on this new web resource. Anyone can now take advantage of the new online offering from Dr. Yin's Acupuncture and Herbs Clinic. Dr. Yin's clinic has implemented a new element to its services, which is a web-based acupuncture information system, to benefit both new and existing patients. This system will assist patients to better gain their needed information, and get better access to knowledge surrounding acupuncture treatment and Chinese medicine that is available in Frisco, TX.
Specifically, this new web portal delivers simple, easy and quick access to important acupuncture and Chinese medical information. For the first time, the Yin Clinic has now made this information available to everyone at their fingertips, via the World Wide Web.
Dr. Yin was quoted as saying, "When I moved to the US from China more than two decades years ago I did not imagine that I would have a way to tell everyone here in Frisco, Texas as well as in the entire world, about the values that Chinese medicine and acupuncture can provide. When I was a medical student in China, we used to have to read ancient texts, written on fragile paper, passed down for thousands of years. Each of these texts may have been read only by medical students. Now, I have the honor to offer this kind of wisdom and information to everyone in Frisco, Texas and the world for that matter, all with the click of a button! This is truly amazing!"
The Dr. Yin's Acupuncture and Herbs Clinic provides patients in North Texas with the benefits of the natural healing wonders of acupuncture, herbs and the other forms of Chinese medicine. Until now, Dr. Yin was only able to provide a traditional website. Now the http://www.yinsclinic.com/ provides an interactive web portal complete with videos and research materials on how acupuncture is used for pain relief, combined with herbs and how they can assist people suffering with everything from migraine headaches, to pain from cancer.
On this subject, Dr. Xie Yin, an expert acupuncturist at Yin's Acupuncture and Herbs Clinic said: "In the advent of the latest breakthroughs in technology, and in science, most people are still suffering and in need of an all-natural, non-surgical, and proven treatment for their health problems. We thought it was time to make an online presence via a web-based system available for people who are suffering from pain, and issues like wanting to use acupuncture for natural childbirth. If you have problems conceiving a child, and you are considering IVF treatments, you want and need to get access to information via the web, and you want it meaningful and as easily as possible. That is why we have invested in the latest in online presentation of information."
Dr. Yin is excited to unveil the latest benefit for current patients and the information seeking public at large. Dr. Yin's Acupuncture and Herbs Clinic serves the population base of Frisco, McKinney, Little Elm, Plano, and the surrounding North Dallas, Texas area. However, this information is free and available to anyone who wants it. It is specifically designed to meet the needs of people who are curious about and want to know if acupuncture can help them, and what it can be used for. A wide variety of people can benefit, but until now, they have not known this information. Some are in server back pain needing acupuncture's natural healing. Others are women who have infertility problems, having difficulty in getting pregnant naturally. Then there are the ones that are pregnant and wanting a natural childbirth. Still further, there are those women who wonder, "Will acupuncture help my egg production and quality?" To take full advantage of this new update on the latest information source in in Frisco, TX has to offer in web-based acupuncture services. Visit this new web resource at http://www.yinsclinic.com/to view the latest in web-based information technology.
Release ID: 175838