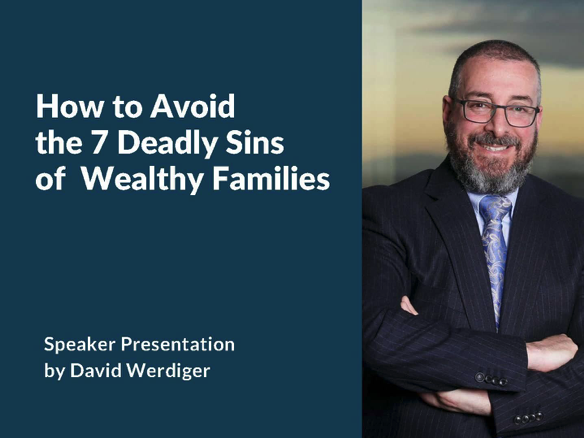 - November 21, 2019 /PressCable/ —
Preparing to Transition the Evolving Family Office to the Next Generation
NEW YORK – In rapidly changing times, technology, ethics, culture and even nature can disrupt the traditional approach to multi generational family businesses. As of 2017, more than two-in-three American labor force participants (68%) are GenX and Millennials according to PEW Research Center. In response to the growing concerns of succession in these populations, Family Advisor David Werdiger announces Family Matters; his private library of best practices on advancing trends in the politics and culture of family legacies. This Private Membership Association (PMA) member hub gives people a confidential space to read, watch and interact with trending topics in:
Family Office Matters
Inter-Generational Wealth Best Practices
Organizational Process
Succession Planning
Gain access to free topical archives, video and options for one-on-one interaction with Werdiger. Join here In his usual forthright manner Werdiger shares, "As a third party advisor to #familyoffice and #familybusiness I often help guide the #intergenerational parties to a win-win-win result navigating culture and impact of 2nd, 3rd and 4th generation family members in the evolving family office." The rising generation stands to inherit significant wealth, and families are spending much effort and expense to ensure that they are well prepared to become effective custodians of that wealth.
Demonstrating his unique perspective and experience, having walked in his holocaust-survivor father's shoes and transitioning from his second-generation family business, Werdiger has now established his Single Family Office modeling these words to live by; "Successful people are those who can go above themselves to see things objectively and manage those things to shape change." ~ Ray Dalio, Principles: Life and Work
David Werdiger, writer, speaker, adjunct professor, revolutionized cloud-based recurring billing as he migrated from his second-generation family business to C-level technology growth company roles. He is a frequent speaker at International Society of Private Wealth Network events, presents case studies at private HNWI events, and public national conferences. Werdiger is a #1 International Best-Selling author of the book 'Transition; How to Prepare Your Family and Business for the Greatest Wealth Transfer in History' and Founder of the Nathanson Pearson Family Office in Melbourne Victoria Australia.
Today Werdiger works from the #nextgeneration of EY Family Office Guide 2019 as the bridge between generations through The Nathanson Pearson Family Office Advisory. Utilizing technology tools like his exclusive Business Succession Risk Assessment (BSRA) programs and his Bridge Between Advisory Services (BBAS). Learn more about David Werdiger and his Programs of excellence at http://davidwerdiger.com and on social networks @dwerdiger and @davidwerdiger.
For more in-depth, thought-provoking discussion points and commentary on family and business, sign-up to gain access to the archives of Family Matters: https://www.transitionbook.co/family-matters influenced and partly based on the Book E-Myth Revisited case study.
Media Contact:
Niki Faldemolaei (CA)
(619) 354-9441

nfcommunications@gmail.com
#successionplanning #intergenerationalwealth #familyoffice #bestseller #transition
Release ID: 88935231