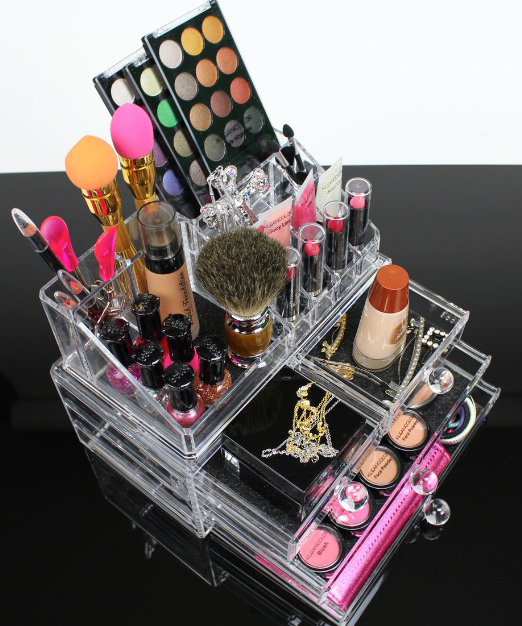 - October 19, 2016 /PressCable/ —
The acrylic makeup organizer by Cosmopolitan Collection has been ranked the #1 cosmetic organizer on Amazon.com. This week, they announced that they wanted to explain the benefits of their makeup organizer.
Rob Bowser, a company spokesman, stated, "We spent an extensive amount of time into research for our makeup organizer. We wanted to know the best materials that are both attractive and durable, as well as what people look for in a makeup organizer. We are excited with our product, and thrilled at the reception it has received."
The Cosmopolitan Collection acrylic makeup organizer is made of durable, scratch resistant acrylic resin that is shatterproof and easy to clean. With 20 different storage areas comprised of both drawers and compartments, the makeup organizer provides a system for everyone to keep makeup and beauty products orderly and bathrooms and workstations free from clutter. The company takes great pride in offering Genuine Acrylic construction as apposed to a cheaper plastic material.
Customers love the Cosmopolitan Collection organizer. "I lalalalove this organizer! It holds a lot of my makeup & keeps everything easily accessible. Sleek look to it, and can be put anywhere from the back of your toilet, to the bathroom counter, or on a vanity!" writes one satisfied customer. With over 150 reviews on Amazon.com, 98% of customers say they are happy with their makeup organizer. The average review is 4.5 out of 5 stars.
The Amazon acrylic makeup organizer is available exclusively on Amazon.com. Currently on sale for $29.97, free shipping is available for all purchases over $49, or any Amazon Prime customer. Cosmopolitan Collection stands behind their makeup organizer and offers a money back guarantee. If any customer is not completely satisfied with their purchase, the makeup organizer can be returned for a full refund.
About Cosmopolitan Collection: "As an honest and ethical company, Cosmopolitan Collection focuses all energy, resources, and effort to organizing the world in a beautiful way. By creating a single, acrylic makeup organizer, Cosmopolitan Collection works to improve the world by bringing the best quality makeup organizer in the world to market so that all men and women can use and enjoy the product at a reasonable price."
Release ID: 139186