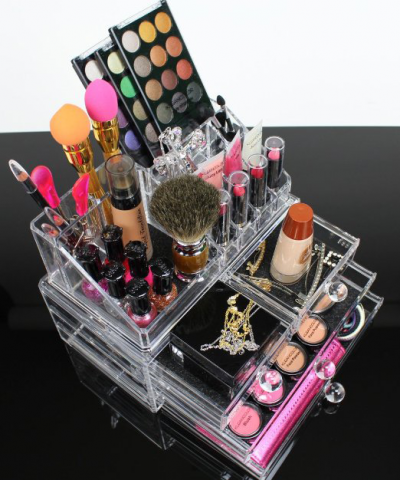 - February 2, 2017 /PressCable/ —
It has been nearly two years since Cosmopolitan Collection launched their best-selling acrylic makeup organizer. This week, company representative Rob Bowser issued a statement remind their customers how important safety is to the company, and ensuring customers that the acrylic used in the production of the makeup organizer is BPA-free and free from any other harmful chemicals.
"We take safety very serious," said Bowser. "Many customers use our organizer to hold their makeup products. These are products that are worn every single day on the face of people all over. It is crucial to know what you are putting on your skin. We have no control over the makeup products themselves, but we can certainly make sure that our makeup organizer is safe and free of chemicals, to ensure that nothing harmful is added to the makeup or brushes while they are stored in our organizer."
The makeup organizer by Cosmopolitan Collection is a transparent storage system that comes in two separate pieces. These pieces can be used stacked or separated, allowing customers flexibility for how the organizer is used. Within the units, there are drawers and compartments of various shapes and sizes, that can hold everything from lipsticks, eye shadow, blush, makeup brushes, etc. The Cosmopolitan Collection organizer is designed to make sure the makeup products are easily found and at the fingertips of users as needed.
To date, over 200 satisfied customers have written reviews for the makeup organizer on the Amazon.com listing for the product. Of those reviews, 98% of reviewers say they like their makeup organizer. One recent five-star review from a verified purchaser said "I did a lot of searching before I purchased this organizer. I love how the two sections come apart. You can keep them stacked together, but it gives you the option to customize it to fit what you need. I sometimes take one section apart and move it closer to me so I can get easier access to my mascara and eye liners. I was trying to find a way to store my makeup so I could access everything but see it too. This little organizer was a great solution. When it arrived in the mail, it was packed very carefully and when I opened it I was stunned. It was heavier than I thought it would be and a lot sturdier. You just can't tell from the photo how high quality this organizer is. I love it and hope to use this for many years to come."
The acrylic used in the production of the Cosmopolitan Collection makeup organizer is transparent, durable, scratch-resistant and very easy to clean. The organizer can be purchased only on Amazon.com.
About Cosmopolitan Collection: "As an honest and ethical company, Cosmopolitan Collection focuses all energy, resources, and effort to organizing the world in a beautiful way. By creating a single, acrylic makeup organizer, Cosmopolitan Collection works to improve the world by bringing the best quality makeup organizer in the world to market so that all men and women can use and enjoy the product at a reasonable price."
Release ID: 166528