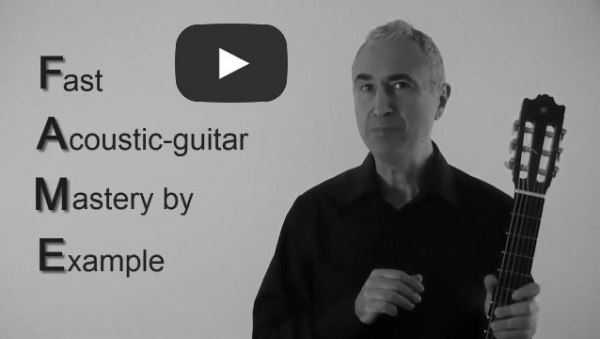 - December 1, 2016 /PressCable/ —
Guitar experts Dr. Alex Davidovic and Milan Mitic launched a new professional acoustic fingerstyle guitar course. The course is called FAME, an acronym for Fast Acoustic-guitar Mastery by Example.
More information is available at http://fameguitar.com.
The guitar is one of the most widely-used instruments throughout the world, being extremely versatile and adaptable to most musical genres.
A trademark of popular styles such as rock, blues, jazz and reggae, this instrument is highly popular among music enthusiasts of all ages. Relatively easy to learn, the guitar is being taught by musicians and amateurs throughout the world in a variety of courses, both online and face to face.
While most guitar courses focus on strumming patterns and picking techniques, as these methods are the most frequently used by famous guitarists, the fundamental guitar technique remains fingerpicking.
Once solid fingerpicking technique is acquired, it is relatively easy to master strumming and picking, while also being able to play a wider range of fingerpicking music, such as classical or flamenco.
However, picking and strumming-focused guitar instruction deprives the learner of the fundamental fingerstyle, a classic technique without which a large share of guitar music remains inaccessible.
FAME is a professionally-designed guitar course teaching classic fingerpicking technique. Since it incorporates a wide variety of music materials, it is suitable for learners of all ages and skill levels, from absolute beginners to guitar experts.
This acoustic fingerstyle guitar course uses different instruction materials, including audio files, video tutorials, sheet music, instruction books and music magazines.
The teaching approach is based on four steps, designed to be as easy-to-follow as possible.
In the initial stage, the learner listens to an audio piece of a certain guitar part, focusing on the melody. The second stage consists of watching the first part of the instructional video without the sheet music, while in the third stage the sheets accompany a slow-motion interpretation of the guitar part. During this stage, the learner will play along, trying to learn the song.
Finally, the last stage consists of practicing the routine until an adequate skill level is achieved.
Interested parties can find more information by visiting the above-mentioned website.
Release ID: 151100