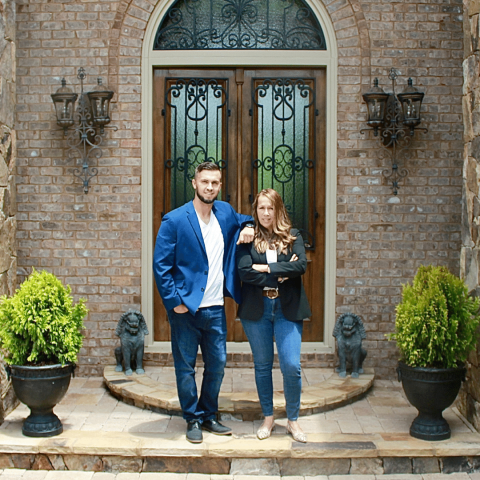 - July 22, 2021 /PressCable/ —
Achasta homes for sale in Dahlonega, Georgia look promising for the once diminishing community. Since the appearance of the new broker Nicole Amstutz of Gold Peach Realty, new life, luxury buyers & world-class real estate service has revitalized the Jack Nicklaus signature gated golf community in Dahlonega into one of the hottest new markets for Buyers and Sellers in north Georgia. Speaking with some of the residents in Achasta about the newfound interest within the community, there was overwhelming support and optimism about the future of the Achasta Real Estate market.
Achasta resident's Zillow review is quite telling of the confidence they have in Achasta's top broker Nicole Amstutz, saying:
"Personally interviewed three real estate agents to determine who would list the home. Nicole is actually a Broker and was heads and shoulders above the other two candidates. No comparison! She is the consummate professional and has built an entire organization with the sole purpose of handling her clients in a first-class manner from the very beginning of the process through the last detail and closing. It was without a doubt the best possible outcome with the least amount of stress and worry. She has her own marketing company, and she said, once viewing the home, that she was confident she would be successful in matching one of her clients with before ever going to market. Her second selected couple that walked through the door made a full-price offer and closed thirty days later. Nicole and her associates are at the top of their game, and would definitely recommend them to anyone that is either selling or purchasing a home." – (Zillow Verified Review 5/15/21)
We reached out to Nicole Amstutz and her co-founder/son Bryan Bergstein for comment to find out just how they were able to turn the Achasta Real Estate market around and create such overwhelming support from the Achasta residents in such a short period of time within the past 2 years. Bryan Bergstein, a real estate marketing expert with a strong background in the technology sector, had this to say about the sudden rise in Achasta real estate confidence along with the resident support for Nicole Amstutz and their brokerage.
"The real estate industry is far behind the times in regard to improving the client experience through the use of technology, modernized business systems, and operations. The current real estate brokerage model has individual agents competing against their own company and acting solely in their agent's own best interests instead of working in unison to provide a delightful, stress-free & efficient experience for the real estate client. It was time to flip the current model upside down and put the customer's best interests first! Then create a full-service team of experts specialized in each stage of the home buying and selling process working as one seamless unit for each client. From initial preparation, online home search specialists, vendors, dedicated client assistants, Nicole Amstutz working directly as the client's Broker/agent, all the way down to dedicated closing coordinator and everything in between.
Breaking down each step of a real estate transaction and created a modernized system of technology, operations, and efficiency that takes the client on a managed, seamless, and stress-free journey from start to finish. Once we had the people and process in place, it was time to tackle the marketing side of the business. Not surprisingly, the real estate industry is even further behind the eCommerce and tech sectors. The majority of the issue is due to the little-known fact that most other agents don't even spend their own money to advertise listings with paid ads, media buying campaigns, or in-house ad management by Real Estate home marketing experts. The vast majority of agents don't even know how to run a basic paid ad, let alone a multi-channel marketing campaign with follow-up automation. It took a few years to develop a comprehensive omnichannel real estate marketing strategy that would culminate into the proven system we heavily invest in each month for every listing. It not only helps sell homes faster by reaching far more targetted in and out of state buyers but also automates and optimizes the entire journey of a prospect starting from initial discovery all the way until they have their first showing scheduled with Nicole. Essentially we have created two very intricate wheels that spin independently to serve two very different functions but have been seamlessly connected to act in the best interest of the client's experience when working with Nicole Amstutz and the specialized team at Gold Peach Realty."
Ever since Nicole Amstutz and Bryan Bergstein started their brokerage in 2018, they have been making big waves in the Georgia and real estate market. Interrupting a stagnant real estate service benchmark with a level of forward-thinking not yet experienced by most. The future looks very bright for the Achasta real estate market, Gold Peach Realty, and the clients are working with such an inspirational new concept.
For more information about Gold Peach Realty or Nicole Amstutz visit: https://www.goldpeachrealty.com/results
Release ID: 89036858