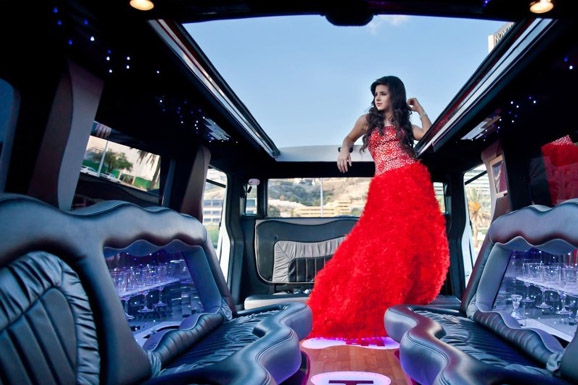 - March 6, 2017 /PressCable/ —
Out of all the romantic events that can happen in the life of a person, only a few can measure up to an engagement. Nothing beats the thrill and excitement of knowing that someone is ready to share his or her life with another person. This is the reason why the staff members at Abiding Limousines are ready to make the special day even more memorable with their elegant and luxurious transportation services.
From the fabulous to flamboyant, Abiding Limousines is more than happy to provide a wide array of options for every couple to suit their unique taste, style, preferences, and budget. All limousines included in the company's fleet haven been lavishly furnished and equipped with the features and amenities needed to take an already special day to the next level while the generously tinted windows ensure passengers with guaranteed complete privacy and discretion.
Everyone can now treat their betrothed to an ultimate style while enjoying a sip of the complimentary bottle of wine. Upon booking the vehicle, it can be customized and personalized with preferred decorations as well as other special touches. For instance, if flowers or chocolates are needed, just let Abiding Limousines know the details in advance. With a mere wave of the magical stick shift, anything and everything can be acquired to ensure a completely memorable trip.
All chauffeurs at Abiding Limousines will be at the beck and call wearing their professional attire to assist their passengers throughout the duration of the event. The limo will be stocked with ample water and ice and the earlier mentioned champagne although other drinks can also be arranged. The best thing is that one can be assured that the luxurious ride will not transform into a pumpkin when the clock strikes midnight.
For those who are planning to share and experience such a momentous occasion, Abiding Limousines has every type of vehicle which can accommodate different numbers of passengers. Look forward to enjoying a flawless to and from destinations or let the driver drive around the city for a quick sightseeing trip. Either way, clients can expect for a seamless service and transportation in the hands of professional and safe drivers.
Limousine rentals have become more and more in demand today due to the reasonable rates associated with this service. Abiding Limousines always make it a point that their customers can indulge in sheer convenience, comfort and relaxation. The company is the leading name that can be trusted in order to have the best riding experience through their top of the line limousine selection.
Due to its prestige, limousines became everyone's dream. The rise of the limousine rentals today is an evidence of its eminence. Aside from engagements, airport transportation and sedan services are also popular for topnotch limousines they rent out at an affordable rate. With the comfort that limousines offer, there is no doubt why these cars are a great choice for everybody.
Whatever be the trip that a person plans to make, he or she won't go wrong with a limo. If they are up for a business trip or important appointment, they can keep themselves updated with the news while on board a limousine. More often than not, these limousines come with a lot of features that are guaranteed to make one's experience incredible and unforgettable. This is also the reason why people who are considering Abiding Limousines are comparing services second to none.
Particularly in terms of the challenges and the travails of the big city driving, anyone does not like to leave transportation requirements to less than the best rather than going with the service that works for everyone.
The commitment and reliability of Abiding Limousines to excellence comes out to their philosophy of treating every one of their customers as a family member. The compliments they got in return prompt them to continue striving forward on the path toward making their service the finest it can be.
Abiding Limousines covers several regions and unlike others, they always strive for better and bigger achievements even if the company is well into its years of service in the industry. The company also provides a variety of limousines for just any kinds of events or occasion. From prom to weddings and sporting events, Abiding Limousines is the best choice for everyone's unique limousine needs. You can check out the various options and special deals offered.
With the sleek and chick limousines, those who are engaged in serious trips constantly always end the day satisfied and happy. The rise of the limousine rentals will affect the notion of people that limos are for wealthy folks, celebrities, and leaders only. Today, anyone may get the satisfaction and comfort from the limousine minus the most expensive cost.
As a reliable and reputable limousine service provider in the industry, Abiding Limousines enable its clients to experience an award winning service whatever the destination is. They also continue improving their service and always ensure that their limousines are properly maintained to provide safety and security.
To get more information about Abiding Limousines, please visit the official website.
Release ID: 174283