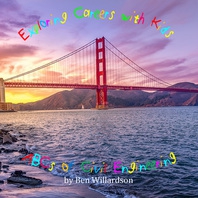 - July 21, 2016 /PressCable/ —
Ben Willardson, father of five and professional engineer, is launching his brand new book, "Exploring Careers with Kids: ABCs of Civil Engineering". The book is set to go live July 21, 2016, available through Amazon and www.exploringcareerswithkids.com. The book is expected to become a big hit with fans of the Early Childhood Education world.
More information on the book can be found here: https://www.amazon.com/author/benwillardson.
This is the first book Willardson has authored. The book was written with the goal of exciting children about the wonderful careers available in civil engineering. There's also particular excitement about this launch because it will be the author's highly anticipated first release.
Exploring Careers with Kids: ABCs of Civil Engineering sets its main focus on exploring the career of civil engineering through rhyme and stunning photography. Readers will likely find a particular interest in the link between the photography and vocabulary that creates wonder and excitement for children while reading. The book's cover art was created by the author himself and Exploring Careers with Kids: ABCs of Civil Engineering is being released by the author (self-published). He is also releasing an activity book themed to match the ABCs of Civil Engineering.
Ben Willardson has a Ph.D. in civil engineering from the University of Southern California. His education and work in the field of engineering helped shaped the creation of the book by exposing him to the wide world of civil engineering opportunities and the need for more kids to aspire to becoming engineers.
When asked about why he wrote the book, Willardson said: "The decline in civil engineering enrollment in colleges and the decline of the nation's infrastructure has become a serious concern to industry leaders, as well as the National Science Foundation, educators, and politicians across the country. Exposing kids to vocabulary in a way that is easy to understand will help them feel more comfortable in choosing careers in the field of civil engineering."
Willardson has hopes that the book will inspire kids to enjoy the world around them that is tied into civil engineering projects and wonders. This positive outlook from the author is certainly testament to his optimism considering some of the mishaps during the book's creation. At one point, the self-publishing software kept reporting errors in the submission that did not exist. The author had to resubmit to the print on demand publisher several times, and work closely with them, to bypass the kink in the submission process.
In a recent interview, the author made a point of thanking friends and family for their part in the creation of the book, saying: "My family and friends put up with all the time I spent working on my "project" that was not spent with them. I appreciate their love and support."
Those interested in learning more about the book or author can visit here: https://www.amazon.com/author/benwillardson
Release ID: 124460