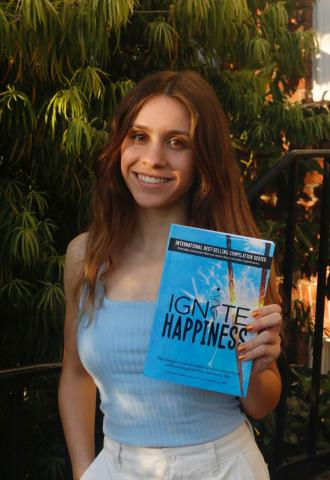 - June 2, 2021 /PressCable/ —
San Francisco, CA – At only 16 years old, Abbey Richter becomes the youngest CEO of MyFirstSale.com, a company dedicated to helping kids ages 5 – 17 become leaders in the world of entrepreneurship. Scott Donnell, founder of MyFirstSale, has extended an invitation to Abbey Richter to become the first and youngest CEO of MyFirstSale, because of her vast experience in leadership and entrepreneurship at such a young age.
Since 2013, My First Sale has been working hard in organizing local business fairs for kids to be able to create one-day businesses where kids showcase products to local communities. Thousands of kids seized the opportunity and signs up to create one-day business ideas. As a result, each kid walked away with hundreds of dollars and a rewarding learning experience. Many students received a boost of motivation from the one-day fair and moved forward in laying a foundation for the business. The company's goal is to teach kids how to have a thriving financial future. Donnell shared, "MyFirstSale is a training ground for kids. We have fun videos on passion, profit, pricing, investing, saving and we teach kids life skills about grit and delayed gratification." The company also has a "an online safe marketplace where we bring customers to kids in a kid-only online marketplace as well as a community of young entrepreneurs," adds Donnell.
Abbey graciously accepted the position of the CEO and said, "I'm excited to gain executive experience and work with highly successful business people." When asked about her contribution to the company, Abbey added, "I can't wait to have the opportunity to help kids learn how to be successful and how to develop entrepreneurial skills." MyFirstSale is rocket fuel for a young entrepreneur.
Some life experiences that have prepared Abbey for the job include being a leader in San Francisco Bay Area non-profits and communities. In 2015, Abbey spoke on the TEDx stage about the four books she wrote, which landed on the #1 Amazon Best-Sellers list. In 2017, Abbey also gave a TEDx talk about what it takes to leave a positive footprint on the planet.
As a #1 Amazon Best-Selling Author with five books and countless achievements before she even graduates high school, Abbey is a thought leader for young entrepreneurs all over the world. For example, the summer before Abbey's sophomore year of high school, Abbey seized the opportunity to attend a study abroad program in Costa Rica. The academic trip sponsored by the National Leadership Academy was designed for pre-veterinary high school students, who were interested in going into the medical field. The two-week-long trip included experiences such as working hand in hand with veterinarians at Escuela de Medicina y Cirugía Veterinaria San Francisco de Asis, observing surgeries and other medical procedures as well as participating in anatomy classes. Abbey also worked with native wildlife in multiple wildlife sanctuaries, observed medical procedures, and assisted with feeding and husbandry.
Additionally, Abbey Richter also:
– Participated as a volunteer at the Congress for Future Medical Leaders, supporting back end operations for the event.
– Worked directly with admissions at Bishop O'Dowd High School in Oakland, CA and created marketing materials for outreach programs.
– Participated in annual fundraising.
– Assisted with veterinary outreach, providing medical services to pets belonging to homeless people.
– Helped Raise money for wildlife in need through fundraiser events.
– Interacted with pet owners and local businesses.
– Participated and coordinated the weekly events held locally.
About Abbey Richter:
Abbey Richter grew up in the San Francisco Bay Area. She is currently a high school senior at Bishop O'Dowd High School in Oakland. Abbey is an award-winning author of five books with topics ranging from rescued pets to challenges teenagers face today. She also has presented two Tedx talks and enjoys public speaking. From a young age, Abbey has always been an entrepreneur and has volunteered and helped raise money for multiple charities including the Pet and Wildlife Fund and Pets for World Peace. After graduation in 2022, Abbey intends to study science and business in College and use her entrepreneurial skills in the healthcare field.
Attending the San Francisco Hamilton performance has really inspired Abbey to change. The quote by Alexander Hamilton, "There are a million things I haven't done, just you wait" inspired Abbey to create a new response to "grown-ups who bombard us with questions about our future," as Abbey puts it. She focuses on living in the present and discovering her passions in life. Abbey became an author at 9 years old and landed the title of a #1 Amazon-Best Selling Author when she wrote books about her pets. Now as a teenager, observing her dad, an award-winning veterinarian, she focuses on larger complex issues such as the legislation of animal medical products, discrimination against some breeds and the importance of teaching young adults how to thrive as entrepreneurs and become future global leaders.
Release ID: 89022243