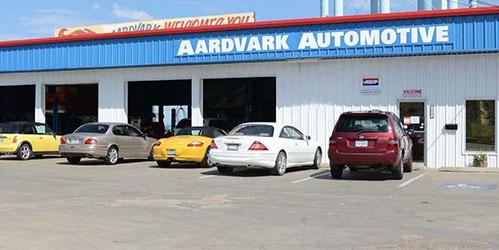 - September 14, 2021 /PressCable/ —
2021 marks the eleventh year, Amarillo, TX-based Aardvark Automotive will provide a used, donated vehicle to a deserving local resident through the Wheels to Prosper Program. The Wheels to Prosper car-giveaway initiative was launched in 2011, and Brandon Anderson, owner of Aardvark Automotive is proud that his auto repair shop has participated in the giveaway every year.
"We've been fortunate to receive a donated vehicle for ten years and counting, which we then tune up or repair if necessary, and award to a deserving member of our community. Today we are issuing our annual call for a donation of a used car or SUV, so that we can help another deserving neighbor again this year," Anderson said.
Aardvark Automotive is seeking a gently used, 4-door vehicle with no more than 120,000 miles. The vehicle will then undergo a complete safety inspection, and Aardvark Automotive will perform necessary safety repairs. "We are most interested in donations of reliable vehicles. We aim to provide a deserving individual with a vehicle that will get them to work, or to school safely and reliably, so that they can work towards their life goals," Anderson explained.
The Wheels to Prosper program provides a fully serviced car or SUV, in good working order to a deserving Amarillo resident in need of safe, reliable transportation. "We've been honored by the continuing support from the local community, which has ensured that we have a vehicle to donate each year. We are confident that our community will support the initiative again this year. If you're not sure whether a car you have would be accepted, we hope you'll give us a call. We'd be happy to make sure the vehicle doesn't have significant engine or transmission problems and can be donated to this year's winners."
Continuing Anderson said, "We encourage everyone who has a vehicle they are no longer using, to consider donating to the Wheels to Prosper Program. This donation can make all the difference in the world to someone who is working hard to get ahead in life but needs a little help. We've awarded vehicles to single parents, those working two jobs, and individuals pursuing higher education, in previous years," he added. Past recipients of Aardvark Automotive's Wheels to Prosper vehicles can be found on the Wheels to Prosper website.
Aardvark Automotive's 11th recipient of the Wheels to Prosper will be announced in the fall of 2021. Nominations for deserving individuals can be sent to Aardvark Automotive online.
Aardvark Automotive has served the Texas panhandle for more than 40 years. Repairs and services provided at the full-service auto repair shop include brake service, engine performance diagnostics, oil changes, heating and cooling services, electrical systems, pre-purchase inspections, exhaust repair and replacement, suspension service, radiator repairs and more.
Visit www.aardvarkautorepair.com or call 806-242-1073.
For more information about the Wheels to Prosper Program, visit www.wheelstoprosper.org
Aardvark Automotive is located at 5825 Canyon Dr. in Amarillo. As a certified Bosch Service Center, Aardvark Automotive has an A+ rating with the Better Business Bureau, and more than 775 5-star ratings online. Aardvark Automotive and is a member of the Automotive Service Association.
Release ID: 89045379