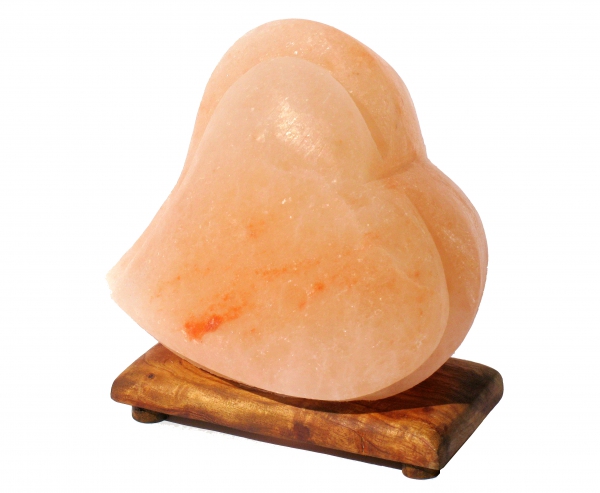 - November 5, 2016 /PressCable/ —
Himalayan salt has rested underground as an ancient mineral deposit since the time of the dinosaurs. In modern times it is used for a variety purposes, including the manufacture of salt lamps. Salt lamps are interesting and useful lamps which emit negative ions to improve indoor air quality and the environment, produce light, and perform a decorative or artistic function in the home.
Useful Innovation announces the availability of the double heart shaped Himalayan salt lamp on Amazon at https://www.amazon.com/Himalayan-Purifier-Carved-Romantic-Eco-Friendly/dp/B017QPJQ4W The six to seven pound lamp comes hand crafted to show two hearts joined together as a symbolic, romantic, or sentimental artistic representation. It comes with a 10 watt bulb, a crafted Neem wood base, six foot cord, and dimmer switch which allows it to double as a night light in any room in the home. An instruction manual is provided so that every customer receives the best experience using their lamp. As a result of organic nature of Himalayan pink salt, every double heart salt lamp has a unique combination of mineral inclusions and fine veins to make each piece a slightly different work of art.
The negative ions produced by salt crystal lamps help to overcome negative factors, which commonly occur in the home. These include indoor air pollutants, pollen which may contribute to allergies, and electro smog which is a preponderance of positively charged ions in the air, caused by the use of electronic devises. Too many positively charged ions in the air make many people feel sluggish and uninspired. Negatively charged ions in the air tend to cause pollutants, dust, and pollen to clump together and fall out of the air and promote a general feeling of wellbeing, increase in energy level, improved sleep. More information is available at http://www.usefulinnovation.com/
The sentimental or romantic form of the handcrafted salt lamp body makes it an ideal gift item for the holiday season, birthdays, anniversaries, and Valentine's Day. Available on Amazon https://www.amazon.com/Himalayan-Purifier-Carved-Romantic-Eco-Friendly/dp/B017QPJQ4W
Release ID: 143427