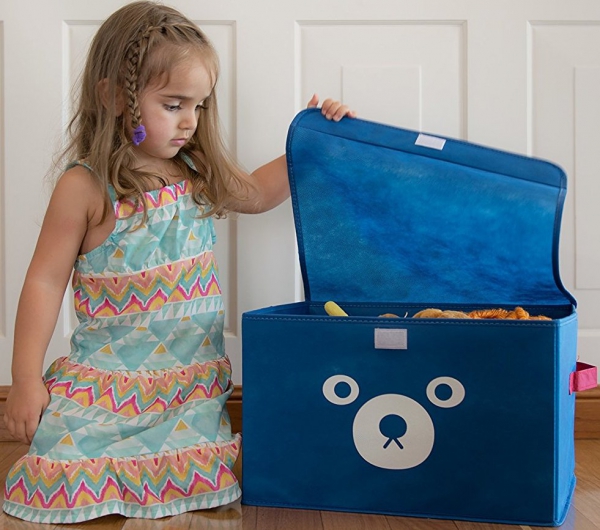 - December 23, 2016 /PressCable/ —
When planning a reunion or party, most people say that it is a nerve wracking experience and the biggest challenge is organizing the house; making it free of toys in the hallway, the living room, etc. That's when most parents realize they need a few toy storage boxes that can be spread out in different areas of the house.
Picking up small toy pieces is time consuming. The problem becomes stressful when parents are actually looking for something they need or that they want to show to their guests, but it can't be found because of a messy room or house.
This organizational dilemma does not have to be a problem when the Katabird Toy Storage Box becomes an addition to a family home.
It is the miracle home assistant that can sort and store all kinds of children accessories. The Katabird Toy Storage Box can be safely used by parents and toddlers because of its precise reliable design, and, the high quality material of the toy box makes it durable enough to last for years.
The Katabird Toy Storage Box is one of mom's best handy tools. It comes in 3 colors and:
A very cute bear face designTwo sturdy side handles that can be easily used by any boy or girlA perfect lightweight lid that carries the bear ears. Children love this lid because they can close it and open it themselves. Parents love this lid because it keeps the box sealed (the room looks more spacious) and because it won't damage little fingersA collapsible design, which is perfect because it takes less than 5 seconds to set it up.
The Katabird Toy Storage Box has a dual purpose: to make any house safer and more spacious, and to make the cleaning up task much more enjoyable for kids, thanks to the colors and design of the box.
Here's a couple of kids happily using their toy storage boxes and having a blast: https://www.amazon.com/Katabird-Collapsible-Organi…https://www.amazon.com/Katabird-Collapsible-Organizer-Playroom-Clothing/dp/B01M02D6DE
The bottom of the box has an extra cardboard insert to make the chest more resistant and sturdier.
Having the Katbird Toy Storage Box is a must for first time parents, more experienced parents or even grandparents because it ensures a safe and mess free environment.
Each purchase of the Katabird Toy Storage Box comes with a couple of extra nice free surprises, which customers will only discover once the box arrives at their front door.
About Katabird: Katabird offers online good quality home tools with a dedicated mission to deliver one-hundred percent customer satisfaction. Helping first time and experienced parents achieve success in their day-to-day life is one of their goals. Katabird strives to ensure all of their products are made with the end-user in mind by creating simple and superior products.
Release ID: 156509