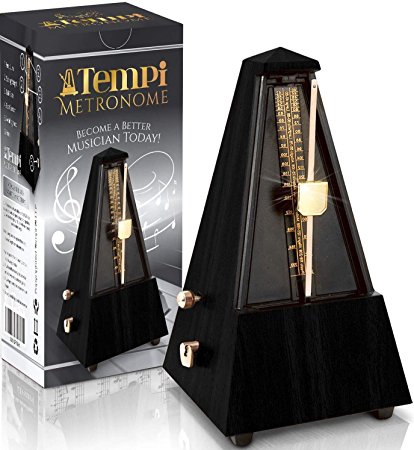 - October 22, 2017 /PressCable/ —
Whether a professional or student, every musician needs a properly functioning metronome for practice sessions. Currently most musicians rely on digital metronomes, but there are advantages to owning a mechanical metronome instead.
https://www.amazon.com/Tempi-Metronome-for-Musicians-Black/dp/B06XJ45FJB
The Tempi Metronome for Musicians is an elegant alternative to a digital metronome. It not only looks better, but sounds better, too. Digital metronome sounds are not very pleasing to the ear. A mechanical metronome is simple and easy, without too many extra accessories, so it keeps the focus on the task at hand. No batteries are required, just a wind up after every 20 minutes of use. Children can use the Tempi Metronome for Musicians without any complications or disturbance. If the digital metronome is on a tablet or phone, that can be too much temptation for a child to start playing video games instead of doing their practice.
Just set the marker to any number between 40-208 beats per minute, then set the beat bell as needed, let go, the pendulum will start and the practice can begin. The beat bell is an important feature to use during practice. Pull the side lever to 0/2/3/4/6 and the time signature is set. The bell then chimes on the first beat of each measure. This is a new feature that was not on previous mechanical metronomes of the past.
The Tempi Metronome for Musicians comes with a two year warranty and a free microfiber cloth. The e-book "Our 10 Best Practice Tips to Help Any Musician Succeed" is also included in every order. Go ahead and invest in a mechanical metronome. It will add so much to the teaching studio or practice space, and there will never be an excuse to not have a metronome again. Reliable, simple, and effective, the Tempi Metronome comes with a two-year warranty and 100% satisfaction guarantee. Don't wait any longer, buy one today.
For more information go to https://www.amazon.com/Tempi-Metronome-for-Musicians-Black/dp/B06XJ45FJB
Release ID: 253269