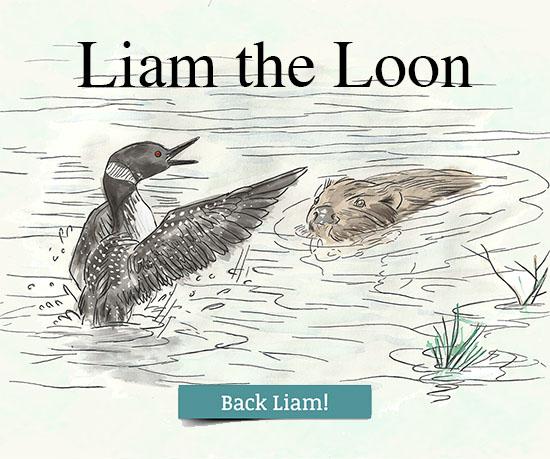 - November 21, 2020 /PressCable/ —
Initial Mainer and current Boston, Ma-based author and illustrator, Ryan Holbrook, has announced the launch of his book, Liam the Loon. The Kickstarter campaign for the book is currently running and offers supporters the chance to receive signed copies of the books along with illustrations with a pledge. Liam the Loon hit its fundraising goal within only 3 days of the Kickstarter's launch and copies are now available for purchase by simply making a pledge on the Kickstarter page.
More information is available at https://www.kickstarter.com/projects/1900286737/liam-the-loon-a-childrens-book-youll-love
The just-launched Kickstarter is for a new children's book project about nature, friendship, and music that is written to be engaging for both parents and their children. The story focuses on forest creatures becoming friends while the Liam the Loon tackles feeling different and alone because of his unique loon toot. With incorporated nature sounds, music, and simple rhyme scheme and the cast of a loon, beaver, bullfrog, and an owl, Liam the Loon is a delightful story any child or nature lover would enjoy.
The book Liam the Loon is also aimed at being an educational story about creativity, individuality, and overcoming life's obstacles. With the quiet pond and natural setting, author Ryan Holbrook intends to help children engage with the outdoors, learn about the importance of preservation, and embrace their own unique personalities.
Backers of the now-available Kickstarter campaign can pledge to support different levels of rewards. Many of those center around the book itself, which is an 8"x10" hardcover book of about 700 words intended for ages 3-8 that features colorful hand-painted watercolor illustrations and interesting animal fact about the animals featured in the book.
Additional pledges for the Liam the Loon Kickstarter campaign include signed Liam the Loon illustrations, unsigned copies of the book, signed copies of the books and illustrations, and packages of multiple books.
Liam the Loon takes inspiration from the author's childhood by being set in a forest like the Maine wilderness and a conversation with the author's childhood friend and wildlife expert, Captain Todd.
More information on supporting the Kickstarter campaign for Liam the Loon can be found at the link above. Contact details for the author, including the original ideas for the book itself, can be found at https://www.liamtheloon.com
Release ID: 88986592