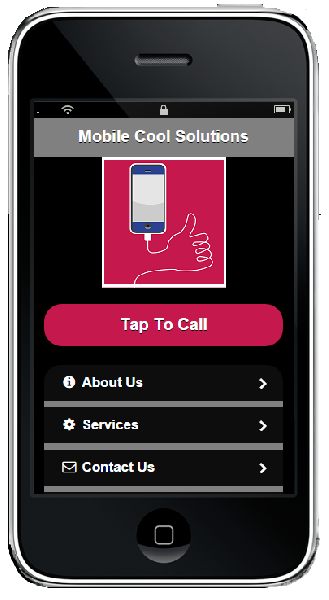 - December 3, 2014 /PressCable/ —
Even the smallest business owners can now afford to optimize their websites so that internet searches made on mobile devices display in a visitor friendly way. Google predict that by the end of 2015 the majority of searches will be made using mobile devices like smart phones, iPads or tablets.  
Now Mobile Cool Solutions, who are based in Hertfordshire, U.K., are using newly developed, bespoke software to offer creation of low cost mobile friendly websites to any business, whatever their size. Details of their services and pricing can be found here: www.mobilecool.info
Mobile Cool Solutions particularly want to ensure that small local business owners don't lose potential customers just because their website is not optimized for mobile use and is therefore slow to load and fails to display properly.
What Mobile Cool Solutions do is replicate the look, branding and content of an existing website, creating a mobile friendly version which sits alongside the 'main' site. If a search is made on a mobile device the mobile friendly version will automatically display.  
The client's key information, such as Contact Details and Services, is displayed on the opening screen on the mobile – there's no need to scroll around hoping to find it. The 'Tap to Call' button just couldn't be more obvious – and that's great for any business, especially those offering 'quick response' type services like locksmiths, car breakdown recovery, plumbers, glaziers and dentists…….to name just a few.
Brendan Ritchie, owner of Mobile Cool Solutions, had this to say about his business:
"We provide a 24 hour turn around service, re-creating a client's existing website content in a format that is mobile device friendly. Already, 2 out of every 5 internet searches are made on mobile devices and within 12 months they will have overtaken PC's as the preferred internet search resource. We are introducing our new service at a time when the business world needs to address this significant change in internet search behaviour. 
Our service is priced very competitively so that businesses of all sizes can now prepare themselves for the meteoric rise in use of mobile phones and devices. If they don't optimize their websites for mobile use, there is little doubt that they will lose potential customers to competitors who do." 
People searching for services and products online simply won't wait long for sites to load and don't want to have to scroll around looking for basic information. They move on quickly – that's why it's important that every business has a mobile friendly version of their website. 
Those interested in learning more about the company can do so on their website at www.mobilecool.info  
Release ID: 69533