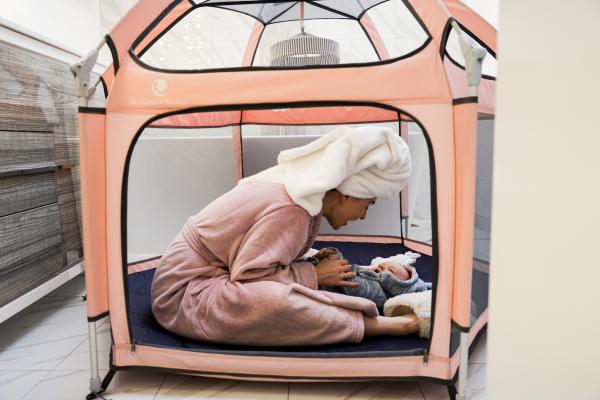 - July 24, 2020 /PressCable/ —
Becoming a parent is a special gift that requires lots of hard work and dedication. Parent's can't let the chaos of a newly mobile baby or toddler slow their day down. The California Beach Co.'s Pop 'N Go Playpen® is known as a "life saver" for stay at home parents who just need a little help managing it all.
Lightweight and durable, the sturdy design makes it simple to maneuver throughout the house. Weighing less than eight pounds, this playpen can move with parents from room to room! Whether parents need to take a quick shower or need to finish up cooking a meal, having a product that ensures a child's safety is priceless.
Agile and undeniably fast, babies are often on the go, making it hard to complete simple yet essential household chores. The Pop 'N Go Playpen® is the essential item, common denominator if you will, to getting those daily lists checked off.
"Just because you're a parent does not mean that you don't deserve to get ready, eat, workout, make the bed, fold the laundry, do your hair, the list goes on," says CEO and Co-Founder of The California Beach Co. Austin Wright.
Technology and safety are a high priority for The California Beach Co. and the Pop 'N Go Playpen® is superior to any other on the market. The breathable, weave mesh fabric allows for constant airflow and makes it easy for parents to keep an eye on their children, and vice versa.
"We hear so many success stories from parents who were longing for a product like the Pop N Go!" "It truly is a lifesaver for those who find themselves parenting alone at times," says Wright.
About The California Beach Co.
The California Beach Co. was founded in 2018, and instantly became a Kickstarter and Indiegogo smash hit — raising over $500,000 in the first 30 days of operations. The patented Pop 'N Go Playpen® is widely known as the most lightweight and portable playpen in the world — aiming to serve parents and pet owners by making unique, innovative, and high-quality products that make parenting easier. They have now expanded to multiple eCommerce channels and have their sights set on international expansion to Canada, Australia, Japan, United Kingdom, and more. Click here to shop or learn more.
Release ID: 88969901