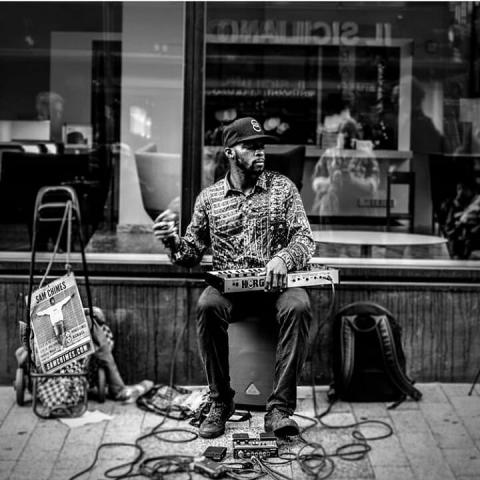 - December 30, 2020 /PressCable/ —
Sam Chimes is an international street performer, producer, and DJ of African descent who has ventured around the world twice, supported by his music. With over 1,000 performances and 2,000+ hours of performance time, Sam Chimes is the performer to bring your online and offline events to life.
At just nine years old, Sam Chimes started piano lessons which would only last the span of two weeks. It was these two weeks that would affect the rest of his life moving forward. In High School, he joined various jazz music classes and went on various experiential field trips which would undoubtedly affected his musical style.
Through the summer of 2018, he toured through Europe, playing 584 shows. The amount of time that he invested into his art gained him recognition and he was nominated for the 2019 Golden Owl "Best Breakout Artist of the Year Award".
Early in 2020, Chimes returned to Vancouver from his second world tour that concluded in Australia. He now continues to produce, write, and perform in spite of a pandemic. Today, he continues to share his undying message: 'Live your dream, don't back down'.
On Boxing Day 2020, Sam Chimes unleashed his '5 Days of Christmas' collection to the world – a collection of five albums which are all now available on digital service providers worldwide.
In Sam Chimes own words, '5 Days of Christmas' comes with its cures and purposes for:
– Seasonal depression
– Christmas and New Year's hangovers
– Great pre and post workout music
How to use:
– Open any online digital service provider library
– Search '5 Days of Christmas' by Sam Chimes
– Connect your speakers somewhere in your home or
– Your ear/headpiece to your outer ears.
– Let the sounds seep in to the mind at a rate of 88 to 115 beats per minute.
Listen to '5 DAYS OF CHRISTMAS' Here: https://linktr.ee/samchimes
Release ID: 88991568