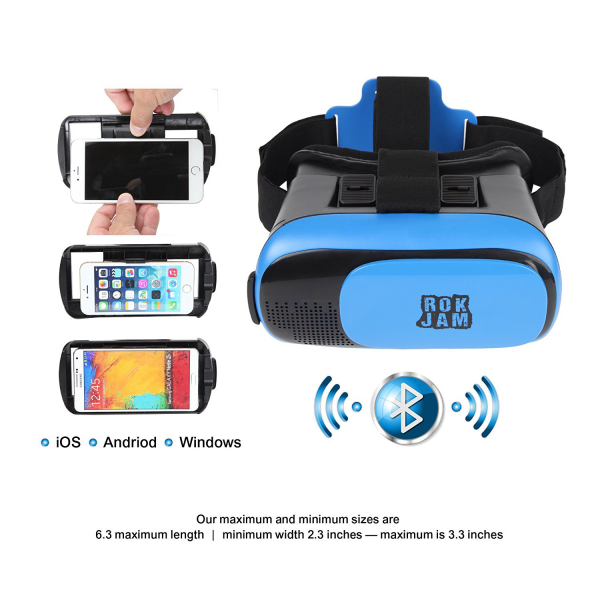 - October 4, 2016 /PressCable/ —
Virtual Reality has proven to be significantly more popular than most people had expected; even more popular than the virtual augmentation provided by Google Glass in 2014. In response to the ever increasing popularity of 3D VR and VA, RokJam has announced the launch of their 3D VR Headset exclusively on Amazon.com. "Just give it a try," encourages Cameron Miller, spokesman of RokJam. "We want you to only have the best, and we want you to be 100% satisfied. That's why we offer a 100% money back guarantee […] So you can try it without any risk."
Designed to give the user a complete 3D VR experience, the RokJam virtual reality headset encompasses the user's entire field of view while providing additional perks. The VR goggles include a remote that allows the user to adjust the focus of the lenses quickly to fit the user's eye sight. The headset is also designed to fit any smartphone so that users can quickly become immersed in VR videos or play VR games, no matter the size of the user's phone.
"This product launch is very, very exciting for us," continued Miller. "RokJam has dreamed of giving customers the most incredible virtual reality experience possible, and now we've made that dream come true." Miller continued to explain how the RokJam VR headset was designed to be lighter and more comfortable than competing technologies, as well as clearer and longer lasting.
RokJam is a United States based company (noted in the name of their website: rokjamusa.com) that is relatively new in the technology market. Miller prompted, "When you get your VR headset from RokJam, you're also doing the USA a great justice by supporting the economy and an innovative company." RokJam also offers a 100% Enjoyment Guarantee on the 3D VR headset, promising a No Questions Asked Money Back security.
To support the RokJam product launch, their 3D VR headset can be found exclusively at: https://www.amazon.com/3D-VR-Headset-Technology/dp/B01I1V6EZO
About: "Virtual Reality gives you the power to be a hero, explores, take risks, and even create new worlds. The RokJam obsession is making the most realistic 3D Virtual Reality experience and thinking through creative designs to give you the best experience possible. We want customers to jump into an immersed world of stunning and breathtaking virtual reality. We love bringing your dreams to life."
Release ID: 135807