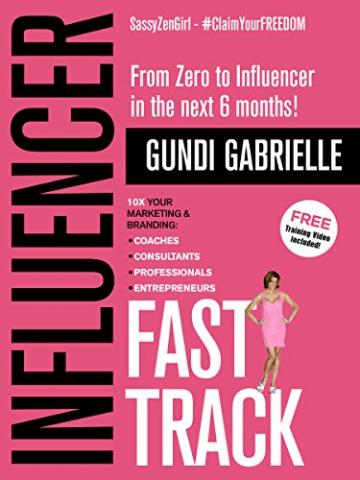 - June 20, 2018 /PressCable/ —
Gundi Gabrielle is the bestselling author of beginner internet marketing guides in the SassyZenGirl series offers a new, no-nonsense advice for coaches, consultants, professionals, and entrepreneurs to go from unknown players to well-known and respected influencers in very little time. Her 2018 guide Influencer Fast Track-From Zero to Influencer in the Next 6 Months offers readers a blueprint for establishing themselves in their niche, making their name known, and becoming a trusted authority in their field.
"Gundi Gabrielle is about to change your life! While I was initially skeptical of Gabrielle's claims, she made a believer out of me. Her 7 Step Formula provides readers with an incredible wealth of information. From designing a great brand to connecting with the major players in your niche to making a solid growth strategy to growing your customer/ reader base, this book gives you a multitude of business tips you can implement today. Gabrielle recommends additional resources and provides free training videos along the way. One can't help feeling empowered. No matter your business, Influencer Fast Track will provide you with fresh ideas to build your brand", says Jennifer Melville from the San Francisco Book Review. Read the full review HERE.
More praise for Influencer Fast Track from other reviewers:
"Reading Gundi's book gives you the 'Kick in the Pants' motivation of a Tony Robbins event". – Frank Kelso, Author
"I'm just starting out on my journey in personal branding, coaching and influencing. But I have learned more from Gabrielle than from any other influencer in the sphere so far. I have applied the steps Gabrielle teaches to my own products and had a #1 best-seller which has allowed me to leverage my experience and follow up new leads and projects." – Aaron Leyshon, #1 Bestselling Author of "Negotiate without Negotiating"
"An excellent book. It explains all of the basics to get started building your influencer platform. It also covers advanced aspects as well in a way that a beginner can understand. I highly recommend all of Gundi's work and this book is no exception!" – Raza Imam, #1 Bestselling Author of "The Passive Income Playbook"​
Gundi Gabrielle says about her book, "YOU = INFLUENCER!! – Have a passion project you want to share with world? – Something amazing you always wanted to do, but don't know how to reach an audience? Marketing feels like wandering in a strange, foreign land and you feel totally overwhelmed?
Then let SassyZenGirl's 7-STEP FORMULA help you go from Zero to Influencer in just a few months through smart relationship building, providing amazing value to readers and followers and leveraging the formidable marketing power of internet platforms like Amazon, iTunes and Social Media."
Influencer Fast Track can be purchased on Amazon HERE or at most online retailers.
Gundi Gabrielle, aka SassyZenGirl, loves to explain complex matters in an easy to understand, fun way. Her "The Sassy Way…when you have NO CLUE!!" series has helped thousands around the world conquer the jungles of internet marketing with humor, simplicity and some sass.
A 10-time #1 Bestselling Author, Entrepreneur and former Carnegie Hall conductor, Gundi employs marketing chops from all walks of life and loves to help her readers achieve their dreams in a practical, fun way. Her students have published multiple #1 Bestsellers outranking the likes of Tim Ferris, John Grisham, Hal Elrod and Liz Gilbert.
When she is not writing books or enjoying a cat on her lap (or both), she is passionate about exploring the world as a Digital Nomad, one awesome adventure at a time. She has no plans of settling down anytime soon. Find more information about Gundi Gabrielle and her books at http://sassyzengirl.com
San Francisco Book Review is part of the City Book Review company and together they publish more than 400 reviews a month in more than 40 genres. City Book Review has five review outlets, San Francisco, Manhattan, Seattle and Tulsa Book Reviews, and Kids' BookBuzz. Authors interested in having their books reviewed can visit the book submission guidelines page for City Book Review. Find great book reviews on all of their websites.
Release ID: 362447