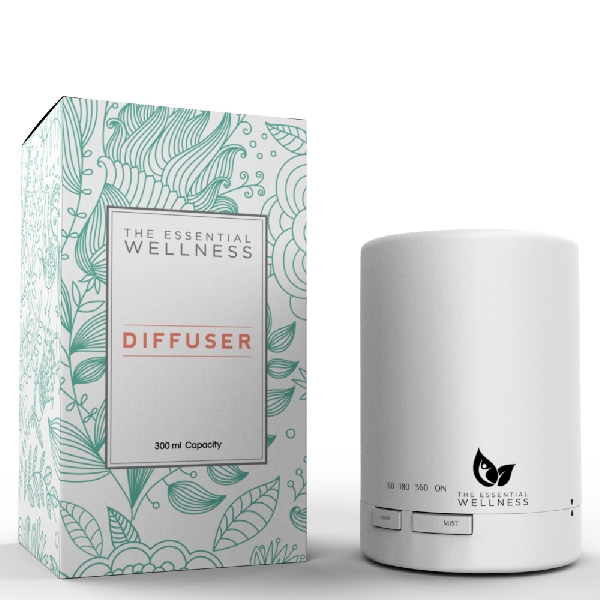 - April 21, 2015 /PressCable/ —
According to the American Lung Association, the average American breathes 3,400 gallons of air each day. And according to the American Journal of Respiratory and Critical Care Medicine, "controlling exposure to indoor allergens and environmental tobacco smoke (ETS) could prevent 65 percent of asthma cases among elementary school-age children." The Essential Wellness Company (www.thessentialwellness.com) is hoping to make indoor air quality better for many with the release of their 5 in 1 Functions Ultrasonic diffuser which can act as an Aromatherapy Diffuser, Humidifier, Air Purifier, Ionizer, and Night Light.
"Absolutely love this diffuser!" stated enamored Amazon.com buyer, Justine M Powell. "We received our order quickly and the packaging is so pretty! The manual was very straight forward and this diffuser is easy to use and I love how it looks. I've used multiple other diffusers previously to purchasing this one and I have to say this one definitely tops them all!"
Unlike other diffusers, the advanced Ultrasonic Diffusing technology uses no heat, which actually alters and destroys the properties of essential oils. Instead The Essential Wellness Ultrasonic diffuser produces pulsating vibrations at a frequency of 2.4 millions times per second which breaks water and essential oils into extremely fine micro-particles without using heat. The ultrasonic is the best essential oil diffuser because it uses water to make a fine mist, and that mist is released into the air with microscopic particles of essential oil. As a result, The Essential Wellness aromatherapy diffuser improves air quality and even prevents lung damage from second hand smoke, stale air and allergens. Functioning as an ionizer it releases negative ions into the air combating harmful positive ones.
The Essential Wellness Ultrasonic diffuser makes a great gift and provides moisture for conditions such as Dry Cough, Sinus Irritation, and Dry Skin and is available on Amazon.com. This item is available for Free Shipping and will make a perfect gift for Mother's Day.
For more information, visit www.theessentialwellness.com.
Release ID: 80069