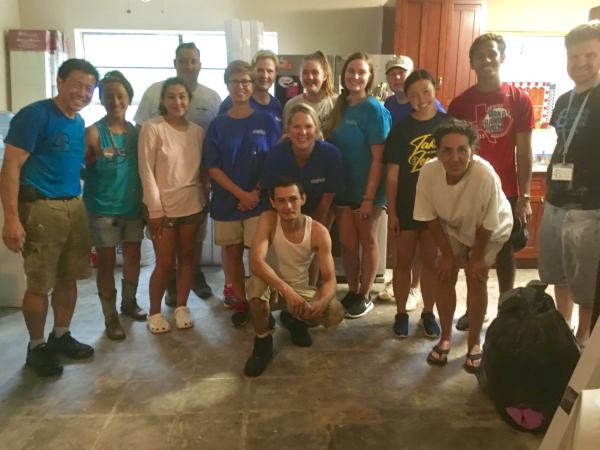 - November 18, 2020 /NewsNetwork/ —
4B Disaster Response Network announced they remain to serve (though others have left) the 600,000+ Houston area residents bounded by the Beltway (north) the Beach (south) Brazoria County (west) and to the Bay (east).
4B Disaster Response Network Executive Director John Eckeberger says 4B DRN has restored over 465 homes to their pre-Harvey condition in these past three years, but stays focused on those 200,000 families still in need of adequate shelter.
Through the donations of time and skill their non-profit network coordinates more than 5,500 volunteers from partner churches, faith-based and community organizations, local businesses and civic organizations to directly impact the lives of more than 2,500 Houston area families, and growing. Eckeberger explains the 4B DRN full-time staff ranges from 2 to 9 upon demand of service to leverage the help of thousands of volunteers. The large skilled volunteer base in partner churches, faith-based and community organizations enables 4B DRN to rebuild at scale and at far lower costs. There still remains more than 200 families on the waiting list for 4B Disaster Response Network restorations.
The 4B DRN is also actively preparing for the next disaster. "Disaster Readiness Coordinators" (DRC) have been identified in local churches, businesses and civic organizations who are leading the way in helping the 4B Area be prepared to face future challenges. These DRC's are assessing resources and are in a position to mobilize in the wake of a disaster in order to best serve their 600,000 neighbors.
Current Disaster Response Challenge
Despite the amazing impact of the 4B DRN, Hurricane Harvey related funds are coming to an end as funders direct their resources to more recent disasters. Without additional donations their current run-rate may require the organization to transition out of rebuilding those 200 homes of Bay area residents and strategically move into further long-term disaster preparedness in the first quarter of 2021. Eckeberger says, "While we understand that at some point, we must make this strategic transition, the work is far from complete and families are hurting."
About 4B Disaster Response Network
4B DRN is a non-profit 501(c3) formed by over 30 faith-based organizations immediately following Hurricane Harvey and was tasked with rebuilding homes in Southern Harris County and Galveston County, and to prepare the area for future disasters. Donations are greatly appreciated, tax deductible, and overseen by the Board of Directors. Donate HERE.
Release ID: 88986081