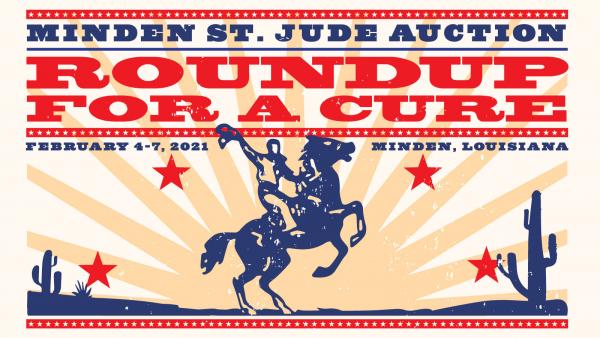 - February 1, 2021 /PressCable/ —
The community of Minden, LA, announced the dates for their 44th annual Minden St. Jude Auction, which will occur from February 4-7, 2021, following a virtual format. Proceeds support St. Jude Children's Research Hospital, one of the world's leading centers for pediatric cancer research and treatment. Community members from across Northwest Louisiana can participate in the raffle / auction via local Suddenlink cable TV,KASO 1240 AM radio, and live stream online at mindenstjude.com. This year's grand prize is a choice between a 2021 GMC Yukon or $50,000 cash.
Each year, the community of Minden and its surrounding areas team up to gather funds for the children's hospital. Last year's event raised over $1.5 million, and since the event began over four decades ago, the Minden St. Jude auction has accumulated over $20 Million for children's research benefiting St. Jude. The citizens of Minden have raised more money for St. Jude, per capita, than any other city in the country.
More information on the event and organization is available at https://mindenstjude.com
The Minden St. Jude Auction began over 40 years ago in a local radio station. Initially, the one-day radio auction sold jams and cakes provided by local businesses and community members. Each year, the event grew, and today it involves a four-day televised festival with over 150 $5 & $10 raffle items such as iPads, iPhones, Peloton exercise bikes, Roombas, outdoor grills, generators, camper trailers, guns, golf carts, side by side, fishing and hunting licenses, children's playsets, lawnmowers, professional services, cash, and big gift cards to both local and big-box stores.
Those who wish to purchase raffle tickets can do so before the event on the Minden St. Jude Auction website. To participate in auctions, bidders must watch online and call in during specific times to win. During the weekend viewers, listeners, and participants can watch the event via broadcasts and live streams on local radio, TV, and internet— KASO/KBEF, Suddenlink, and the official website. Participants will also find event t-shirts for sale, as well as forms to submit for those interested in sponsoring or donating to the event on the website.
In past years, the weekend included a chili cook-off and a Children's Day event. Due to COVID-19 and the adapted virtual format, these elements will return in 2022. However, the Minden Run for St. Jude will still occur as usual but will be held at a different starting point with updated routes.
The on-air, live stream, and broadcast schedule for the Minden St. Jude Auction is as follows:
* February 4th, Thursday – 3:00 pm to 10:00 pm
* February 5th, Friday – 7:00 am to 10:00 pm
* February 6th, Saturday – 7:00 am to 11:00 pm
* February 7th, Sunday – 1:00 pm to 9:00 or 10:00 pm
Founded by the late entertainer Danny Thomas, St. Jude Children's Research Hospital provides treatment for children across all 50 states and worldwide. Globally, the entire medical community benefits from the conducted research. St. Jude is the only pediatric cancer research center that offers treatment and support for families free of charge to all patients.
Event details, a list of prizes, and more information about the Minden St. Jude Auction are available at the URL above.
Release ID: 88995679