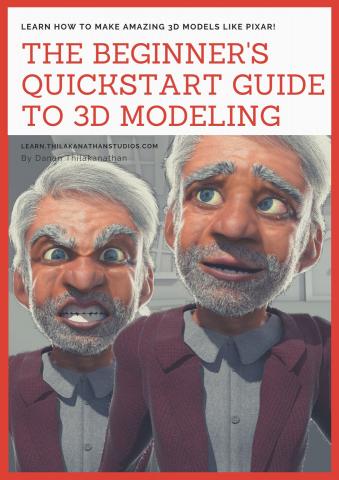 - November 13, 2020 /NewsNetwork/ —
Danan Thilakanathan, a 3D animation expert, has released a new eBook from Thilakanathan Studios entitled 'Beginners Quickstart Guide To 3D Modeling', which is available online for free and introduces people to 3D skills that support creative interests including film and game production, VR, architectural visualization, and digital illustrations.
More information is available at learn.thilakanathanstudios.com/the-beginners-quickstart-guide-to-3d-modeling
The recently published eBook, written by Danan Thilakanathan, is an introduction to creative modelling projects and teaches artists how to transform something from their imagination into a 3D form that can be used in stop-motion animations and more. People that read this book can learn the skill of 3D modelling in 60 days or less and can set their personal projects in motion with a customisable 12-week action plan.
The skills Thilakanathan teaches range from Pixar-like animations to hyper-realistic models, making this new eBook ideal for any artist's first foray into digital illustrations. 'Beginners Quickstart Guide To 3D Modelling' is a must-read for any aspirational 3D artist looking to complete their first game or film project.
Thilakanathan is an expert in creating 3D artworks and animated movies, having made 4 animated short films and running a successful Youtube channel, which features step-by-step guides to sculpting 3D models, with over 19K subscribers.
Thilakanathan's expert eBook includes comprehensive guides to approaching and mastering 3D modelling skills and is the ideal free online resource for amateurs and beginners who want to be at the forefront of digital animation technology.
The newly published online guide covers essential beginner topics including a 12-week plan of action for completing projects, in addition to chapters explaining how 3D modelling and animation skills are highly in-demand for a range of professions, including jobs in virtual reality, advertising, architecture, and creative media sectors.
Additionally, Thilakanathan explains how in recent years, 3D artwork expertise has become a highly desirable practical skill in areas such as scientific and medical research, vehicle design, the education sector, and 3D printing, which has become more popular than ever. Danan Thilakanathan's online guide is available to download for free and teaches people the art of 3D modelling from home.
More information about Thilakanathan Studios can be found at www.udemy.com/user/danan-thilakanathan and www.youtube.com/thilakanathanstudios.
Release ID: 88985472