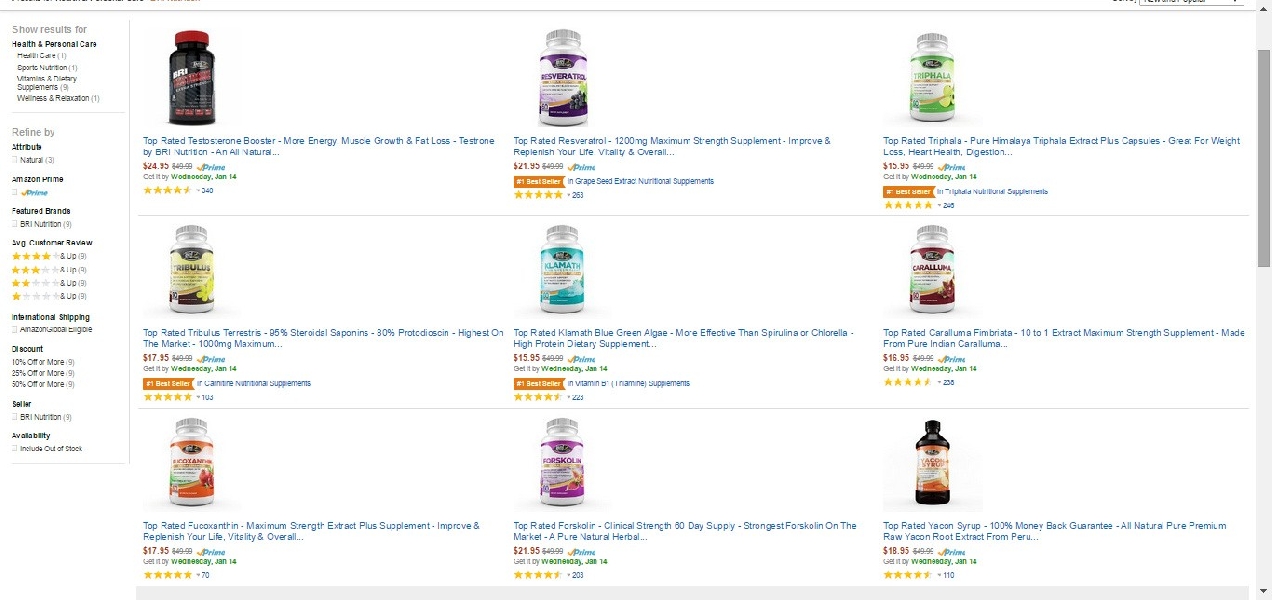 - January 17, 2015 /PressCable/ —
BRI Nutrition reports that it sells a number of Amazon's most sought after natural & organic health supplements in a recent statement. The company specifically announced another record breaking trend in their healthcare supplement sales. 
"It's official, as of today, 1 out of every 3 of BRI Nutrition's health care supplements sold on Amazon has reached #1 Bestseller status, this first month of Q1 2015" said Samantha Bray Lockton, Director of Business Development for BRI Nutrition. 
BRI released the following list of products as under Amazon's Bestseller list. 
• BRI Resveratrol – currently listed as the #1 Bestseller in three different categories, namely: Resveratrol supplements, Grape Seed Extracts, and Calcium Ascorbate.
• BRI Triphala – currently listed as the #1 Bestseller in Triphala nutritional supplements and also placed 2nd in the bestseller list for two other categories, namely Vitamin K supplements and Ayurveda products.
• BRI Klamath – currently listed as the #1 Bestseller in B1 (Thiamine) supplements and also placed second in the list of Spirulina bestsellers. 
•BRI Tribulus – placed 1st in the Bestseller list of Carnitine Nutritional Supplements and also listed as 2nd in the Bestseller list of Tribulus products. 
Lockton says, "According to WebMD Health News Correspondent, Denise Mann, 'More than one-half of U.S adults take dietary supplements,' and that number is rising. With increased consumer use, also comes increased consumer awareness. As such, we believe that consumers have clearly seen BRI Nutrition's line of products for what they are – high quality, fast delivery nutritional supplements that work. It was our goal to become such a market leader and we expect the remainder of 2015 to be equally as rewarding, to both us and the consumer, as we continue to provide the best in natural & organic health products."
BRI Nutrition is keen to uphold the current bestselling status of its products and is hopeful that more of its products will further reach Bestseller status this Q1.  
About BRI Nutrition
BRI Nutrition, based in California, is a manufacturer and distributor of a variety of health supplements such as Phytoceramides, Resveratrol, and Yacon Syrup. The company has been revolutionizing high-quality nutritional and natural supplements for years, with the mission to aid people in their pursuit of optimum health and wellness. Their products are manufactured in the USA, under an FDA-registered production facility.
Release ID: 72297