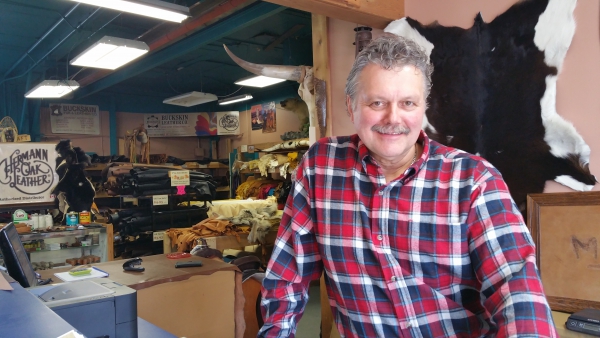 - September 1, 2016 /PressCable/ —
Just by walking into Buckskin Leather Company, individuals reveal themselves to be a person who cares about quality.
Celebrating 30 years in 2016, this family-run business has been sourcing and distributing the best leather supply in the world from their warehouse in Calgary to upholsterers, designers, saddle-makers and movie producers.
They just may be the best-kept secret in the city. Consider this an introduction.
With a personal history that dates back to a time when tanneries still dotted the North American landscape, Michael Schluessel carries on a family tradition that began with his grandfather, Kurt, in post-war Germany.
They also see a growing number of DIYers and hobbyists, but Buckskin Leather Company is a Canadian, USA and worldwide leader when it comes to supplying leather upholstery hides, sheepskins, vegetable-tanned leather and leather cowhides to the trade professionals who need them.
"It's their raw material for them to make a living. It's important to me personally that I am filling that need," says Michael, from his Nanaimo, B.C., home, where he runs is West Coast sales operation.
Today, Michael runs Buckskin Leather Company with two full-time employees and his wife, Janet, and daughters, Nikole and Michaela, who recently got involved and turned the business into a four-generation legacy.
Surviving for three decades is no small feat in an industry that has changed as much as wholesale leather distribution. It requires expertise, growth and the knowledge that quality service will prevail.
When Canadian tanneries disappeared due to environmental and economic realities, Michael and his now retired father, Wolfgang — knew where to go to find quality leather at a good price.
"Everyone still needed leather, but all the tanneries were out of business," he recalls.
That means they supply the best high-end natural full-grain and top-grain leather available, providing a vast selection and distinguishing themselves by making sure customers can get as much leather as they need in the same colour and quality as they need.
When walking into their shop — or perusing the online virtual tour — what one quickly discovers is that Buckskin Leather Company is committed to maintaining not only quality, but inventory.
"We set out to get the best leather that we could," says Michael, who still does the buying himself, visits the tanneries, and inspects the product. "It costs the same to bring in quality leather as low-quality. It ships by weight."
It gives him quality control over his inventory and allows him to be confident in what they stock and offer their customers.
The market for quality leather, hides and rawhide is vast and diverse. Michael proudly talks about supplying the movies that shoot in Alberta, such as the recent blockbuster The Revenant.
"Most of the leather in that was from us," Michael says.
Surely, a Hollywood production is good business and an exciting customer, but Michael says that leather trade professionals always need good material.
"If it's good material, you'll have the business forever. Our marketplace caters to people who appreciate that."
Release ID: 130679