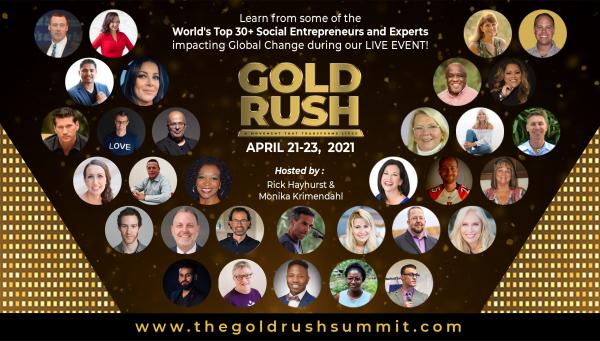 - April 16, 2021 /PressCable/ —
Learn from 30+ of the World's Top Social Entrepreneurs and Experts impacting global change
(April 15, 2021) – The Gold Rush Summit, A Movement That Transforms Lives helps Social Entrepreneurs create currency through traffic and connection. The currency needed ranges from funding to volunteers, to training, to new clients. The Gold Rush Summit holds the entrepreneur's hands as they embark on positively impacting the world.
Social Entrepreneurs take on projects that create improvements, or healing, in the world creating organizations that support local and global changes. Issues like girls' education, homelessness, hunger, domestic violence, equity, poverty, environmental issues, etc. are some examples of the Social Entrepreneurs' focus.
Who is a Social Entrepreneur?
A social entrepreneur is an individual, group, network, organization, or alliance of organizations that seek sustainable, large-scale change through pattern-breaking ideas in what governments, nonprofits, and businesses do to address significant social problems. Since profit-making is a secondary objective, they are people who are passionate and determined about what they do. They possess a very high level of motivation and are visionaries who set out to bring about changes in the way things are.
30+ of the world's Top Social Entrepreneurs will be sharing their secrets that propelled their success. They will be sharing experiences, inspiration, and strategies related to how they built their BIG DREAMS that brought changes globally and created a social impact.
These are the experts who are influencers, educators, and motivators. They have also been featured in various programs like CNN, NBC, Good Morning America, NBC News, Forbes, Two Comma Club, and more.
Come ready to be inspired and motivated as strategies are shared towards creating lasting global change. Successes, breakthroughs, and the "how to" create lasting positive change in the world are revealed during this extraordinary event.
More information can be found at https://www.thegoldrushsummit.com
Release ID: 89005461